The trend away from large SUVs and toward smaller, more fuel-efficient models has changed the market significantly in recent years. One of the most popular small cars on today is the Kia Forte. The Forte has been around since 2010 but received some significant upgrades this year that might make drivers looking for a new compact, affordable car take notice. Current owners will love the new look, features, and improved interior. Forte dealers in Rio Rancho have these new models on hand now so anyone who wants to take a look at the 2017 Forte can get behind the wheel and experience what this new model has to offer.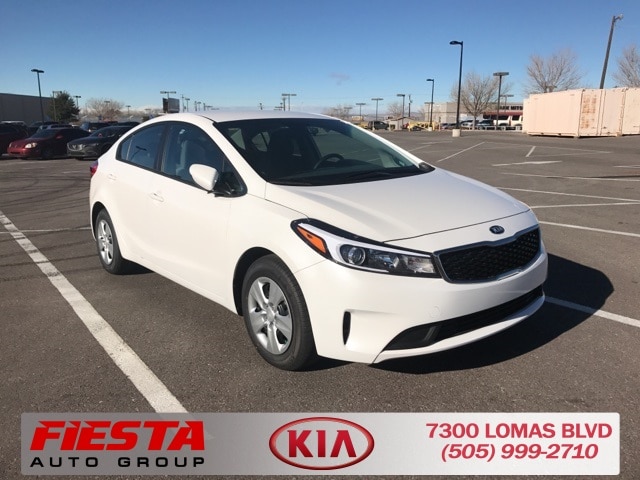 Interior and Exterior
The vast amount of cargo space is the most notable interior feature of the Sedan and Forte5. Although many compact vehicles have limited storage, the sedan has an amazing 15 cubic feet of trunk space. If that isn't enough, the Forte5 offers an amazing 23 cubic feet of cargo room. Kia owners who like to travel will love the amount of space they have in their Forte.
This year's model got a new grille and headlights. It actually looks a lot like the larger Optima now. The taillights have also been redesigned to look more like the Optima. However, Kia has kept the distinctive shape that made the Forte famous. Owners of the older models might be surprised to find a Kia Forte with such impressive style.
Safety
The 2017 Kia Forte received a five-star rating from the National Highway Traffic Safety Administration, with top marks in side impact and combined side barrier and pole ratings. It received four stars for frontal barrier and rollover ratings. Front active headrests have been added to this year's model to improve the odds of drivers as well as passengers walking away from a crash.
All Forte models are equipped with dual front, dual front seat-mounted and full-length side curtain airbags, electronic stability control, brake assist, hill start assist, front and rear crumple zones, and an impact-absorbing steering column. Parents can feel confident their children are safe whether they are riding in the backseat or in the passenger seat.
Under the Hood
The new 2017 Kia Forte near Rio Rancho NM gets better fuel economy in the city than earlier models. The standard engine for the Forte and Forte5 is 2.0 liter 4 cylinder. It boasts 147 horsepower and 132 lb.-ft. of torque. This year Forte buyers get the option of a direct injection 4 cylinder engine that puts out 164 horsepower. Sedan buyers have a choice between a 6-speed manual or 6-speed automatic transmission while Forte5 buyers can have a 7-speed dual clutch transmission under their hood.
For those looking for a fun car to drive, it's best to choose a Forte with a manual transmission. However, the automatic models can accelerate from 0 to 60 in 8.1 seconds so they are far from one of the slowest cars on the road. Although a Forte owner isn't going to beat a sports car in a road race, this car has enough power to get through most driving situations with ease.
Handling
The precise steering and steady handling make the Forte an easy car to drive. Most people will enjoy the ease of the steering and the overall quality of the ride. People who travel a lot won't have trouble driving for hours in their Forte, especially if they choose the EX model, with leather seats and a heated steering wheel.
Features
Regardless of the trim, this is a fun car to drive. Even the basic trim has some great features so drivers don't have to spend a lot on add-ons to enjoy their driving experience. For example, standard features include a height-adjustable driver seat, USB and auxiliary inputs, Bluetooth connectivity, and a CD player. The midlevel trim comes with alloy wheels, keyless entry, and a rearview camera. Drivers who opt for the SX trim can expect to find LED taillights, navigation and xenon headlights, and dual-zone air conditioning.
The optional features are even more impressive. Depending on the trim they choose, drivers could get heated front and back seats, a heated steering wheel, auto-dimming rearview mirror, and keyless ignition. The features can add a lot to the price of the car, so drivers on a budget should carefully select the features they really need when they buy a new 2017 Kia Forte near Rio Rancho NM.
The compact car market is saturated today, but the Kia Forte definitely has one of the top spots and is a much better value than some of the others. Car buyers who have done their homework and are ready to make a purchase, as well as those who just want to see what Kia has to offer in the area, can stop by our Kia dealers near Rio Rancho to take a test drive. Those that are as impressed as we are with this small car can work with one of our sales agents to choose a trim and features that will make their Forte unique to them.