Imagine driving cross country on only four tanks of gas. This seems to be an impossible task, but is it? With a 2017 Kia Niro near Albuquerque, a driver can do exactly this. In fact, the Niro just made it into the Guinness World Records after Wayne Gerde and Robert Winger drove the Niro EX 3,715 miles on only 4.1 tanks of gas. This works out to 76.6 miles per gallon and earned the vehicle the title for lowest fuel consumption when driving coast to coast in a hybrid. Drivers who want this type of fuel economy should visit one of our Kia Niro dealers today to see this amazing hybrid in person.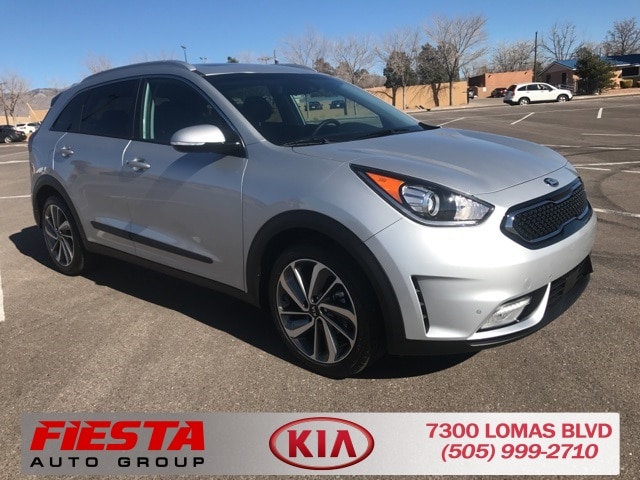 What Makes The Niro Special?
The Kia Niro is a vehicle unlike any other, as the manufacturer set out to show drivers what a hybrid crossover should look like. This car is capable of getting an estimated 50 miles per gallon combined and can go close to 600 miles before it needs to be refueled or recharged. This doesn't mean the car is lacking in fun. Although it is highly functional, it also provides an exciting ride thanks to the 1.6 GDI engine coupled with a dual-clutch automatic transmission that transitions so smoothly drivers wonder if they missed something.
Staying Connected
With such great fuel economy, drivers may find they are spending more time on the road. This doesn't mean they have to be disconnected from others. The Kia Niro comes equipped with an infotainment system that allows passengers in the vehicle to access apps, send a text, and connect a smartphone to Android Auto or Apple CarPlay. Devices can be charged in the car, and drivers may choose to upgrade to a Harman Kardon premium sound system to enjoy their favorite music while behind the wheel. These are only a few of the many features the Niro offers that any driver would love to have in their car.
Driver-Assistive Technologies
Drivers find they can choose from a number of driver-assistive technologies to make their lives easier while on the road. For example, a driver may choose a model with Autonomous Emergency Braking, a system designed to apply the brakes in the event of a potential frontal collision. This may be combined with the Forward Collision Warning System, which provides both visual and audible alerts if a potential hazard is detected in the path of the car. Other driver-assistive technologies are also available, allowing each driving to pick and chose those of most importance to them.
Safety
Regardless of what type of car a person is driving, they want the vehicle to be safe, and Kia has designed the Niro with this in mind. They built this car on their Iso-Structure platform consisting of more than 50 percent advanced high-strength steel. This provides the rigidity needed in the car, and they have taken this a step further. They patented a number of their manufacturing techniques used to enhance the integrity of the body, so drivers feel confident powering this vehicle everywhere they go.
The Niro also comes with an advanced airbags system that includes items such as high-tech sensors designed to oversee airbag inflation and an airbag in the area of the driver's knees. The crumple zones in the front and rear of the car have been engineered to provide added protection by maintaining the structural integrity of the car, and steel beams have been included in the doors to absorb impact energy while deflecting the force of a side impact. In addition, the car comes with active safety technologies to ensure the car stays on track. This includes Vehicle Stability Management, hill-start assist control, and an anti-lock braking system along with electronic brake-force distribution.
The Hybrid Of The Future
Hybrids have come a long way over the years, yet there is still room for improvement, and Kia recognizes this. With the Niro, they have come a long way in closing the gap between conventional cars and hybrids. They've done so by finding the right balance between driving performance and fuel economy. The hybrid-optimized engine offers the power drivers want and need, while the lithium-ion polymer battery and highly efficient motor offer the fuel economy consumers are demanding. The car offers outstanding performance while providing the gas mileage drivers are sure to love.
The 2017 Kia Niro near Albuquerque may be the car of the future thanks to its amazing fuel economy and other outstanding features. If you aren't familiar with this car, you want to be. Head on over to one of our Kia dealers near Albuquerque to find a Kia Niro and take it for a drive. When you do so, you'll wonder how it only brought home one title, but give it time. With so many amazing things about this machine, it is sure to be honored time and time again.