Individuals looking for an affordable mid-size sedan often choose to purchase a 2017 Kia Optima near Santa Fe NM. Some see the price and wonder what the car is lacking only to be pleasantly surprised by the quality materials, the user-friendly technology, and the roomy cabin. They wonder how Kia was able to include so much at such a low price. Take this car out for a spin today, and you might find it is the perfect ride for you.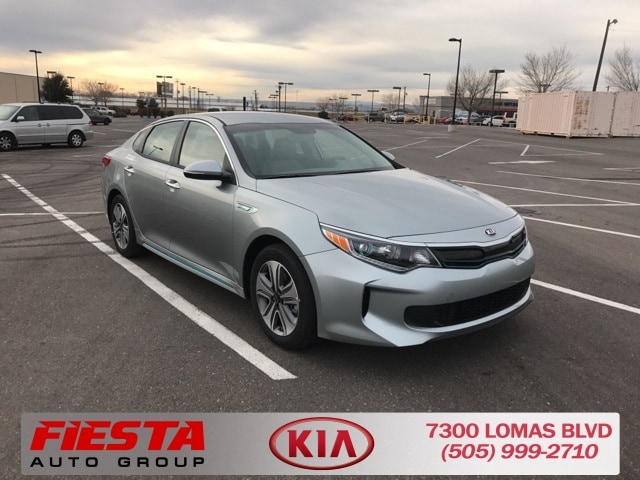 Exterior Styling
Kia describes the exterior of the Optima as emotionally charged, and it's easy to see why. The front and rear fascia attract attention everywhere, and they are complemented by the signature nose grille. They manage to combine form and function in one amazing design, and the sculpted frame improves on the aerodynamics of the machine. While the car comes with headlights that blend with the overall form, drivers may wish to upgrade to LED headlights to light up their path and dynamic bending lights with high beam assist. These lights adapt as the car moves around corners.
Interior Features
Kia designed the 2017 Kia Optima with the driver in mind. From the spacious interior to the latest amenities, there is something for everyone. Ergonomics have been streamlined with the help of a clean design, and no detail has been overlooked. Drivers may choose to upgrade to heated and ventilated seats and adjust the seat to meet their specific needs. Hands won't get cold on frigid winter days when the heated steering is chosen. Although this isn't often a concern in our great state, it's still nice to know this feature is available.
Performance
Performance isn't something a person may expect from this car when they see the low price but, once again, they will be pleasantly surprised. Drivers choose the engine that best suits their driving style, including the LX 1.6 model that comes with a turbocharged 1.6-liter engine coupled with a seven-speed, dual-clutch transmission. Others, however, find the 2.0-liter turbo engine in the SX and SX Limited models better suits them. It's all a matter of what the driver wants and needs at the time of purchase.
Outstanding Technology
Technology is important to many people when they go to buy a new car. The Kia Optima dealers actually find some people place this at the top of the list of items they want in a car. The Kia Optima comes with a number of driver-aid technologies, such as Advanced Smart Cruise Control and Autonomous Emergency Braking. Some may elect to add the Available Surround View Monitor to see every angle of their car from a bird's-eye view, and others love the infotainment center and choose the Optima based solely on this feature. It includes items such as My Car Zone, a feature that allows the owner to obtain information about the car regardless of who happens to be driving it at any given time.
Safety
The Kia Optima features both active and passive safety systems. From component hot-stamping at 16 critical stress areas to the use of advanced high-strength steel, Kia hasn't cut any corners when it comes to keeping the vehicle's occupants safe. This vehicle has earned a five-star crash safety rating from the National Highway Traffic Safety Administration and comes with comprehensive seat-belt and airbag systems. Parents love the fact the car comes with the LATCH child seat system and rear child-safety door locks. Other safety options include Vehicle Stability Management and Hill-Start Assist Control.
Hybrid Versions
Certain drivers want a hybrid vehicle, as opposed to a conventional one, and Kia dealerships near Santa Fe can be of assistance here also. A car buyer may choose from a hybrid Optima or a plug-in hybrid depending on their needs. Both come with a 2-liter GDI four-cylinder gas engine and an electric motor to provide the fuel economy and power drivers demand. Those drivers choosing the plug-in hybrid have the option of operating the car in an all-electric mode, which simply requires selecting the EV mode. Drivers concerned about the environment are sure to appreciate this option.
Don't overlook the 2017 Kia Optima near Santa Fe NM when the time comes to buy a new car. Five people fit comfortably in this vehicle, making it the perfect choice for many families, and drivers enjoy the fuel economy of this model. One can expect to get between 22 and 28 miles per gallon in the city and 31 to 36 miles per gallon when out on the open road. The comfortable handling is appreciated on long trips, and critics rate this model highly. Consider this model when the time comes to replace an existing car. Our Santa Fe area Kia dealers will be more than happy to share this car with you and allow you to take it for a test drive to see if it meets your needs.