The 2023 Kia Niro Hybrid near Santa Fe, NM has Changes in Store Inside and Out
Toward the end of 2021, Kia revealed the second-generation Kia Niro in photos, without much information about the relevant technical aspects. The company has now released more details about the newest iteration of the compact hybrid crossover, and it sounds exciting! The 2023 Kia Niro Hybrid near Santa Fe, NM is set to debut later this month, at the New York Auto Show, with the plug-in hybrid (PHEV) and electric (EV) options following a bit later. The details here only apply to the hybrid model. 
Power and Performance
The redesigned Kia Niro Hybrid, just like the 2022 model, will get its strength from a 139-horsepower hybrid powertrain made up of a 1.6-liter four-cylinder gasoline engine and an electric motor.  The naturally-aspirated four-pot is good for 104 hp and 106 lb-ft of torque on its own and works with a 32-kilowatt electric motor and 8.9 kW lithium-ion battery to reach the top hp. The company says the engine is matched with an overhauled 6-speed, dual-clutch automatic front-wheel-drive transmission that has been "carefully engineered and optimized" for more efficiency and less weight.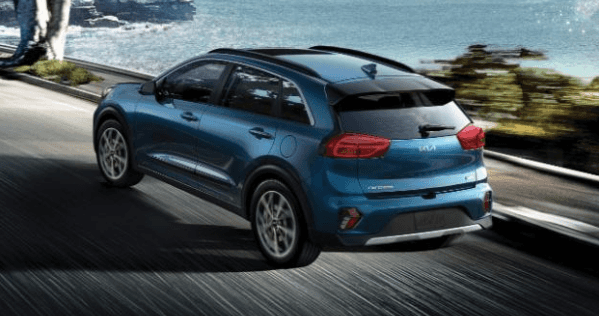 And speaking of better efficiency, the 2023 Kia Niro has a Green Zone Drive Mode, which will automatically turn off the combustion engine when data from the navigation system identifies a green zone. Green zones are located near schools, hospitals, neighborhoods, and frequently visited places like the driver's home or work area. Drivers can also manually set green zones to force the Niro to work exclusively on electric power. There's a regenerative braking system to put energy back into the battery that would otherwise be wasted. All in all, this little hybrid should deliver around 50 mpg combined and about 26 miles of electric-only driving. 
In addition to having a different design, the new model employs a newly developed suspension and steering setup that promises to provide a more comfortable ride. For the same reason, more sound-deadening materials are used in the 2023 Kia Niro Hybrid near Santa Fe, NM, resulting in a quieter ride for passengers. 
Redesigned 2023 Kia Niro Hybrid near Santa Fe, NM
At 174 inches long and nearly 72 inches wide, the 2023 Niro is bigger than the previous model in every dimension. It's now 2.5 inches longer, almost an inch wider, and about half an inch taller than the old Niro. Even the wheelbase has been extended by nearly an inch. With a new location for the battery (beneath the rear seats), these increases should be noticeable in a roomier cabin. 
Taking styling cues from the 2019 "HabaNiro" concept vehicle of 2019, the new model includes an air blade feature right behind the C-pillar, which can be painted black or painted to match the body color. The company calls it an "aerodynamic panel," which sounds like it has some functionality and isn't just a styling element. 
There's a more angular look to the Niro, with headlights and V-shaped LED accents positioned lower on the front fascia and a two-tier grille design. In the back, vertical taillights frame the rear hatchback. 
Inside you'll find a 10-inch head-up display across all trim levels and a 10.25-inch touchscreen. Great tech combined with smooth lines gives a futuristic feel to the Niro Hybrid. 
Learn More
Although the 2023 Niro won't make it to our showroom until later this year, please stop by anytime to see all our exciting models. Conveniently located at 7400 Lomas Blvd NE in Albuquerque, we're open from 9 am until 7 pm Monday – Saturday and 11 am – 5 pm on Sunday.