The 2023 Kia Seltos near Rio Rancho, NM Could be Getting a Hybrid!
The Kia Seltos had its American debut in early 2020 for the 2021 model year as an all-new compact crossover between the midsized Sportage and the smaller Soul. It sports an eye-catching design that sets it apart from the many offerings in this crowded auto segment. But competition in this class is intense, so Kia hasn't been afraid to upgrade the Seltos to stay a jump ahead of its rivals.
Only one year after its introduction to the US, the company updated the Seltos for the 2022 model year with new standard safety and driver-assist technologies. And now, if rumors prove to be true, the 2023 Kia Seltos near Rio Rancho, NM is receiving a mid-cycle refresh that will bring even more changes.
Changes Coming for 2023 Kia Seltos near Rio Rancho, NM
The Seltos for sale in the US is currently offered with either a 2.0-liter naturally aspirated 4-cylinder engine that delivers up to 146 horsepower and 132 lb-ft of torque or a more potent 1.6-liter turbocharged 4-cylinder that churns out 175 horses and 195 lb-ft of twist.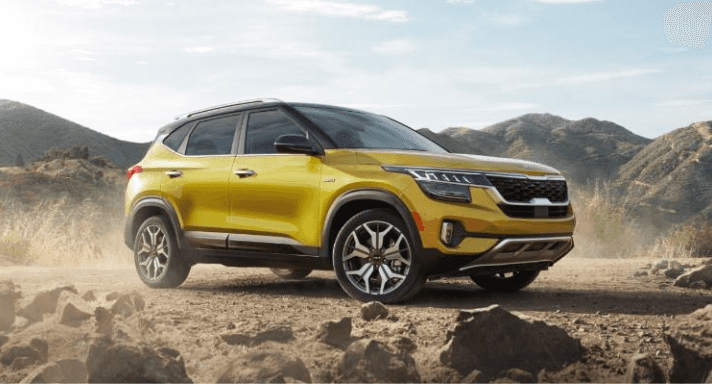 A new and more effective hybrid adaptation of the Seltos will enter the lineup as part of the 2023 mid-cycle update, according to The Korean Car Blog. The new hybrid Seltos will replace the diesel-powered version in European and Asian markets, which isn't sold in the United States. Sources report that the hybrid model will combine a 1.6-liter 4-cylinder internal combustion engine and a 32-kilowatt electric motor to deliver 139 hp and 195 lb-ft of torque, which is the same setup as the Kia Niro.
However, would the company sell two small crossovers that are identically powered? Good question. The Niro is front-wheel-drive only and more oriented for urban drivers, while the larger Seltos is available with all-wheel-drive and can be taken on more adventurous outings. However, an AWD hybrid Seltos would most likely burn more fuel than the Niro Hybrid.
The hybrid Seltos could become the new entry-level model here in the US, which would be a welcome addition. As far as fuel economy goes, the Kia Niro is rated by the EPA at 23/30/26 mpg highway/city/combined, but the Seltos being larger would likely prove just a bit less efficient.
Exterior Changes Anticipated
The current Seltos is already an attractive SUV, with a good balance of ruggedness and luxury. Its ride height and skid plates in front and back give it an outdoorsy feel, but the streamlined body lines and cool light configurations create a modern and high-tech appearance.
A fully camouflaged prototype was spied in South Korea, according to The Korean Car Blog. So, we're also expecting some minor exterior updates for the 2023 Kia Seltos near Rio Rancho, NM. Look for a restyled grille, redesigned front and rear bumpers, and possibly revamped headlights and taillights.
Presently, the Seltos has some bold paint options, such as Starbright Yellow and Mars Orange, and sports the current trend of contrast roof and side-view mirror options, with several two-tone color schemes offered. A few more color options could become available.
See for Yourself
If you've got your eye on a new Seltos or any other exciting Kia model, don't hesitate to visit Fiesta Kia at 7400 Lomas Blvd NE in Albuquerque. Our team is ready to answer any questions you have, and we look forward to serving you!