The 2018 Kia Niro near Rio Rancho NM is the first Kia designed exclusively as an electric/hybrid vehicle, and it's a compelling mix of fuel economy, passenger room, and safety technologies. While its fuel efficiency rating falls just short of some competitors, it's more efficient than most in its class. With its crossover-like styling and refined drivability, the 2018 Kia Niro is a wonderful addition to the segment.
Who Will Like the Niro
With the rising popularity of CUVs (crossover utility vehicles), the Kia Niro may find its niche among buyers who want an SUV with good fuel economy but don't want a hatchback or a conventional-looking hybrid. While the Niro looks like a crossover, it doesn't have AWD, which puts it out of contention for some buyers.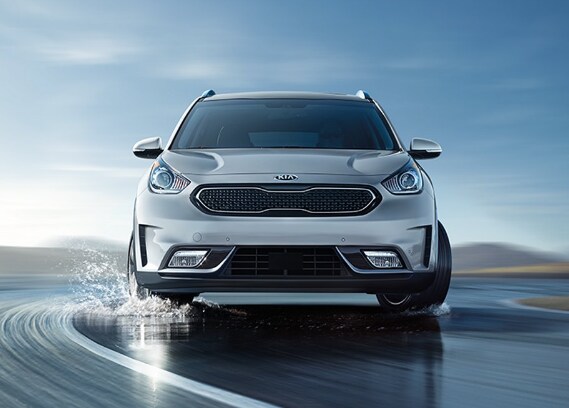 Impressions Behind the Wheel
The Niro's new gas/electric powertrain is the automaker's best hybrid setup to date, and it results in a car that drives less like a hybrid and more like a conventional car. Once it's up to highway speeds, the Niro is quite comfortable and quiet, and a list of convenience and safety tech reduces driver effort while increasing confidence. While the Niro is fun to drive, its focus is on fuel economy. The vehicle also performs well in small spaces because of its backup camera, tight turning radius, great outward visibility, and optional rear traffic notifications.
Our Take on the Interior
Kia has a reputation for well-planned interiors, and the Niro isn't an exception. Dealers and buyers alike are impressed by the clean design, intuitive layout, intelligent functionality, and refined feel. Climate and audio controls are well placed, there's an open bin with power and USB ports in front of the shifter, and everything just feels like it was designed with attention to detail. The rear passenger area of the Kia Niro offers ample legroom and headroom even for tall passengers. While the cargo area isn't as generous, the 60/40 folding seats provide flexibility. Like most SUVs, wagons, and hatchbacks, the Niro's cargo area grows substantially when the seats are folded down.
Comfort
Despite its lowered roofline, the Kia Niro's seating position is relatively high. The long doors take up much of the vehicle's sides past the A-pillars and provide easy access to the rear passenger compartment. With the battery pack under the rear seat, the cargo floor is low and flat. The Niro is appropriately quiet, as Kia has put a commendable effort into engine noise isolation and body structure insulation.
Outside the Niro
With its rear skid plate and other design elements that increase visual height, the Niro looks more like a small crossover than a hybrid. Drivers who don't need additional ground clearance, cargo capacity, or all-wheel drive won't notice the difference between the Niro and other crossovers. While all 2018 Niro models get touches like body-colored mirrors and door handles, buyers who visit Rio Rancho Kia Dealers will have to choose the Touring model to get 18" wheels.
Standard Equipment
The 2018 Kia Niro near Rio Rancho NM has highlights such as push-button start, keyless entry, a UVO infotainment system with Android Auto and Apple CarPlay compatibility, an AM/FM/satellite radio, a seven-inch touchscreen, a backup camera, Bluetooth connectivity, dual climate controls, and much more.
Available Options
Along with visual cues such as 18" alloys and power-folding, heated outside mirrors with turn signals, the Touring model comes with familiar upgrades like leather seating and a moonroof. The touchscreen is slightly bigger at eight inches, and an optional Harman/Kardon sound system provides additional audio quality. Available driver assist technologies include lane departure and frontal collision warnings, auto emergency braking, adaptive cruise control, and front/rear parking sensors.
A Peek Under the Hood
The 2018 Kia Niro's gas/electric hybrid setup is comprised of a lithium-ion battery and a four-cylinder engine. Power from that engine is routed to the front wheels via a rapid-shifting six-speed automatic gearbox. It's quite an impressive system and provides seamless operation and outstanding efficiency. Ratings are as follows.
139hp (under gas/electric power)
195 lb. ft of torque (under gas/electric power)
EPA fuel economy rating of 51/46 for the EX and LX models and 46/40 for the Touring edition
The electric motor works as a generator to recapture energy wasted during engine overrun and braking. It's used to charge the lithium-ion battery. When it's under power, that battery sends power to the motor, powering the car by itself or in tandem with the engine. Buyers should be on the lookout for a plug-in version, which is expected to arrive by the end of the 2017 model year.
Pricing
The 2018 Niro is priced comparably to other cars in its segment. However, the superior five-year, 60,000-mile bumper-to-bumper warranty makes the Niro a great buy. To learn more about the Niro's pricing and availability, stop by our Kia dealerships near Rio Rancho today. We'll be happy to answer your questions and offer a test drive.