The popular, compact Kia Forte received a few tweaks for 2017, and the 2018 model that is now ready to roll out is even better. While some shoppers were disappointed that the two-door "Koup" version of the car was left behind last year, the far better-selling sedan and hatchback versions remain available for the 2018 Kia Forte.
Interest in the 2018 Kia Forte near Santa Fe NM has been high, especially with the remaining 2017 inventory in the area now mostly clearing out. The new take on the Forte once again represents a spectacular value in its various trims and styles while also being a fun and practical car.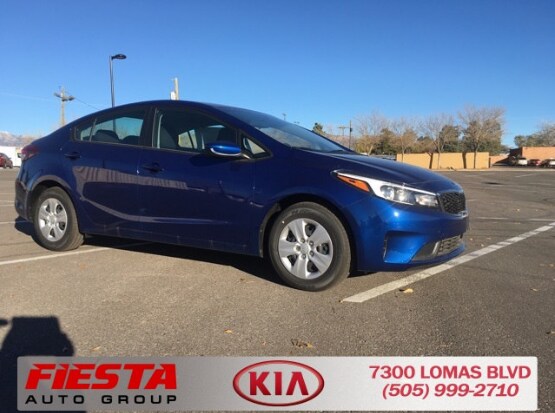 The Culmination of Five Years' Worth of Refinement
The second generation of the Forte first went on sale in 2013, and Kia has been doing a fine job of improving and updating the compact every year since. With analysts expecting that the upcoming version will be the last of this generation, those interested in test driving the 2018 Kia Forte near Santa Fe NM can count on an exceptionally refined experience.
Most noticeable at first will be the same widely admired face lift that updated last year's Forte with a fresh, new look. With sleeker headlights and taillights helping to accentuate the Forte's tastefully sporty lines, buyers looking for an affordable new car do not need to settle for a boring one.
Further tweaks all around bring fit and finish to satisfying new levels. Once again, both the basic sedan and the Forte5 hatchback outperform their affordable pricing by a lot, impressing just about everyone with the quality of their no-nonsense interior appointments.
Practicality and Performance Mingle at Accessible Price Points
Both base models of Forte come equipped by default with variations of the reliable two-liter, four-cylinder engine that powered them last year. Good for a bit over 150 horsepower and around 160 pound-feet of torque in its sedan-targeted form, that motor will be plenty for the average buyer. Sedan buyers can also opt for an upgrade good for a ten percent improvement in power.
The inherently sportier Forte5 hatchback can be bought with an optional engine that drops a bit of displacement in favor of turbocharged zip. Its 1.6 liters pour close to 200 horsepower and pound-feet of torque into a seven-speed transmission.
Both formats of the Forte remain eminently practical, too. Of particular note is the way that the compact sedan easily accommodates even those well over six feet in height, with a hair under 15 cubic feet of cargo space making running errands a pleasure. Bearing more than 23 cubic feet of room for grocery getting, the Forte5 hatchback is ready to serve, as well.
Impressive Safety Features and Ratings
The Insurance Institute for Highway Safety (IIHS) rated the 2017 Forte quite highly in most of its safety tests. With no major changes to be made in this area, the 2018 Forte should once again contend for a "Top Safety Pick" award and enable plenty of peace of mind for owners.
Kia's optional Autonomous Emergency Braking (AEB) system, for example, is ready to take over when human reactions might be too slow. A highlight of last year's IIHS testing results, AEB truly stands out at this lower end of the price scale. Whether they opt for AEB or not, however, new owners of the 2018 Kia Forte near Santa Fe NM can be confident of taking delivery of a notably safe compact car.
Generously Equipped in Even the Base Trim
The basic LX sedan version of the Forte once again impresses with a surprising wealth of desirable standard features. Although the simple 15-inch steel wheels that carry the LX Forte might not stand out, perks like these likely will:
• Standard Air Conditioning
• Quadraphonic Audio System
• Built-In Bluetooth Connectivity
• Power Windows and Locks
• Heated Mirrors
Those features combine to make the base Forte sedan one of the best equipped in its category. The S trim does the same at a slightly higher price point, including a sportier suspension and LED positioning lights up front.
The luxury-focused EX package adds heated seats, remote, push-button start, and more. With the Forte5 telling a similar story across its LX, EX, and SX trims, the value remains striking.
A Well-Rounded Evolution of a Compact Standout
Since the second generation launched, the Forte has turned into a steadily more impressive competitor for entry-level giants like the Toyota Corolla and the Honda Civic. In addition to offering an outstanding balance of the value and reliability that Kia has become so well known for, the 2018 Forte enters the market shaped by years' worth of thoughtful refinement and tweaking.
Whether for first-time buyers or more mature ones who appreciate a practical but fun compact car, the 2018 Forte bears looking into for many reasons. Come test drive the new Kia Forte near Santa Fe NM at our dealership or get in touch with any questions you might have. As what could be the last model year of its generation, the 2018 Forte is ready to impress with its refinement, value, and personality.