Since breaking into the U.S. automotive market back in 1995, Kia Sportage sales have surged, setting new records with each passing year. This trend is expected to continue with the 2018 Kia Sportage near Santa Fe NM once it finds its way into the public eye. Though pretty much all manufacturers have made drastic changes to their designs over the last couple decades, the evolution of the Sportage is just shy of astonishing.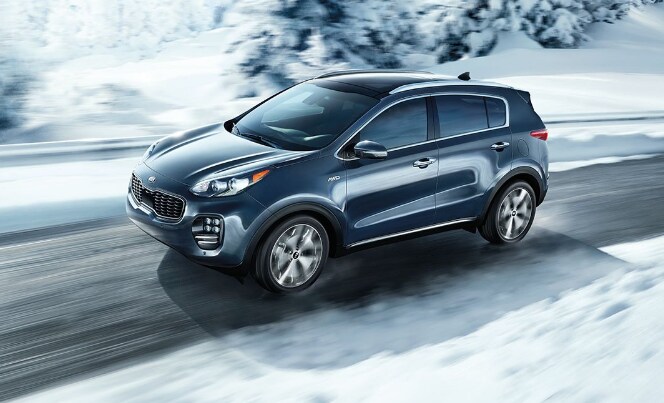 Excitement is building among new compact sport utility vehicle seekers across the nation, with the Sportage being one of the most highly anticipated models for the coming year. At Fiesta Kia, we're on track to receive the latest models to be sent out by this famed South Korean automaker as soon as they're ready to roll.
What's to Come for the New Sportage?
Like so many of the latest vehicles to hit the market, the new Sportage generates a bit of an intimidating air. With sleek styling and narrowed, slightly upturned headlights, it appears to be silently challenging others on the road. Given some of the changes on tap for the 2018 version, it may just give its fellow SUVs a run for their money.
Both interior and exterior cosmetic modifications are in the works to add to the Sportage's appeal. Mechanical upgrades are likewise at hand with techno innovations planned in both the standard and optional departments. Those newly integrated features are sure to blend in with the ones set to carry over from the previous model for a well-rounded driving experience.
Interior Details Matter
First, the 2018 Kia Sportage's passengers can look forward to more legroom than before, and its owners will have quite a bit more cargo space at 31 cubic feet. Once you fold down the split second-row seats, you'll have almost twice that amount.
As far as comfort and appearance go, the coming model's interior is said to rival high-end vehicles. More luxurious upholstery will provide a more comfortable ride while a revamped layout of all the instruments and controls will go a long way toward increasing convenience for the driver. Three distinct trim levels will be available: the LX, EX, and SX Turbo.
Satellite radio, Bluetooth, and USB ports pump sound through the Sportage's six-speaker audio system with Android and Apple connectivity, navigation, driver assist features, and touchscreen capability becoming available on certain trim levels. Also optional on the higher levels are heated and cooled leather seats, rear USB ports, a sunroof, and further audio/visual system upgrades. Push-button start, automatic liftgates, and heated steering wheels will be offered as well.
Drive Train Features
With the Sportage's base and second-tier models, the LX and EX, Kia has incorporated a 2.4-liter, 4-cylinder engine offering 175 pound-feet of torque and 181 horsepower. The 2.0-liter, 4-cylinder turbo available on the SX ramps things up with 240 horsepower and 260 pound-feet of torque.
They're matched up with a 6-speed automatic front-wheel-drive transmission as a standard rule of thumb, but an all-wheel-drive version is available as well. Three different driving modes have been integrated into the coming models: normal, sport, and eco.
Beyond the Basics
More insistent damping than previous models lends improved stopping power to the new Kia Sportage near Santa Fe NM. It's been described as a little faster on the take-off than its predecessors as well. Modifications to the vehicle's suspension help conquer harsher driving conditions on the AWD model, while revamped steering adds more responsive control.
Fuel Economy
For the 2.4-liter of the LX and EX models, fuel economy has been rated at 22 miles per gallon in the city and 29 on the highway. AWD models give you 21 miles per gallon in the city and 25 highway. Those equipped with the 2.0-liter turbo and FWD transmission grant you 21 m.p.g in the city and 26 on the highway, whereas the AWD turbos stand at 20 in the city and 23 highway.
Safety
Ample driver assist and safety features are available for the coming Sportage, such as lane departure and collision warnings, lane change assist, and responsive headlights to name a few. While crash test ratings haven't yet been released for the 2018 Sportage, last year's model earned the IIHS Top Safety Pick+ Award. Authorities are predicting no less for this year's release.
In a Nutshell
An array of technology will be available to those who're looking for a 2018 Kia Sportage near Santa Fe NM with the options growing more plentiful for the EX and SX Turbo models. Design modifications to the suspension, brakes, and steering promise less resistance in rough driving conditions as well as improved handling. A refined interior and more roominess will add comfort and convenience, and far-reaching driver-assist features round out the driving experience.
Fiesta Kia is your go-to source for the 2018 Kia Sportage near Santa Fe NM, and we're expecting the new models to arrive later this year. Call us at (844) 693-8149 or visit our website for the latest updates, and don't hesitate to stop by our showroom for a test drive when the time comes.