If you're looking for a 2018 Kia Soul near Rio Rancho NM, Fiesta Kia is the dealership to keep an eye on. We're eagerly awaiting the arrival of the latest models from the South Korean automaker since the Soul is high on America's list of most sought-after newcomers.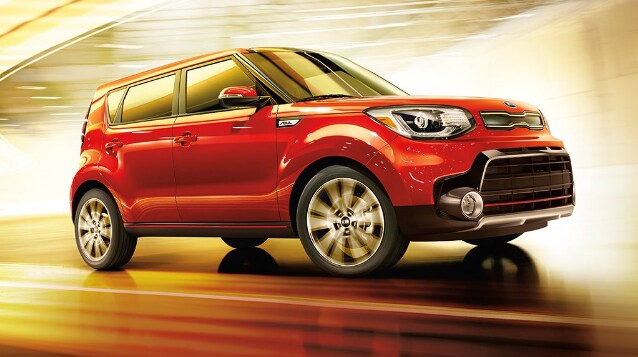 Whether you want to call it a subcompact car, a wagon, or a compact crossover utility vehicle, all of which are acceptable in the automotive realm. The Soul was top in its category last year, outselling its closest competitor by a considerable margin. Sales are expected to continue along those lines for the model to come.
What's on Tap for the New Soul?
Specifics on the 2018 Kia Soul are a bit hard to come by at this point. Following a complete makeover in 2014 and an even more recent mid-season revamp, the manufacturer isn't being very forthcoming with the latest details. That being said, we have some inside information passed down from a few reliable sources.
Subtle exterior design changes and mechanical enhancements are sure to come with new technology also being incorporated. You'll still see a range of trim levels and options. In fact, some previous options are actually going to be standard equipment for the 2018 model.
Drive Train Decisions
Kia plans to hold true to the current model's trim levels: Base, Plus, and Exclaim. At the Base level, you'll get a 1.6-liter, 4-cylinder DOHC engine delivering 130 horsepower and 118 pound-feet of torque. A manual transmission comes standard, but an optional automatic is also available. Both are 6-speed, front-wheel drives.
Moving right along, the Plus and Exclaim versions pack a little more punch with a 2.0-liter 4-cylinder generating 151 pound-feet of torque and 164 horsepower. These trim levels offer a standard automatic 6-speed transmission. Again, FWD is the word of the day on both models. We're also being told the 2.0 GDI turbo may enter the mix.
Aside from the traditional options, Kia will also roll over its electric vehicle into the 2018 season with 109 horsepower and 210 pound-feet of torque. Its upcoming EV should be able to outperform the current model's limited 93-mile range, so recharging won't need to happen as frequently when driving the new purely electric Kia Soul near Rio Rancho NM.
Interior Options
As is the case with other aspects, the Soul's interior comes in numerous forms as you move up through the trim level hierarchy. Cloth upholstery graces the inside of the Base model, while a six-speaker audio system with Bluetooth and a USB port round out the tech features. Cargo space can be extended when needed courtesy of split folding rear seats.
Options increase with the higher trim levels as cloth gives way to leather upholstery and heated seats. A more high-end audio system with Apple and Android connectivity becomes available as well as touchscreen navigation plus collision and blind spot monitoring. You'll also have a panoramic sunroof at your disposal. These are only a few of the choices available on the Plus and Exclaim versions.
Exterior Enhancements
Although only a few small changes are going to be made to the outside of the vehicle, you'll see repositioned fog lights and redesigned headlights as well as a new look for the grille and front bumper. Sources indicate you won't see integral air vents on the 2018 Kia Soul near Rio Rancho NM. Other than those minor changes, the latest Soul will keep its unique look.
Performance
As is the case with last year's model, the new Soul is sure to give you a smooth ride with ample pep. Handling has never been a complaint with this particular vehicle, and that isn't expected to change anytime soon. Its wheelbase measures just over 101 inches, which melds well with its overall size and ground clearance.
Efficiency
With both the 1.6 and 2.0 engines, estimated fuel efficiency stands at an estimated 27 miles per gallon combined. The turbo version comes in slightly higher at 26 m.p.g in the city and 31 on the highway.
Safety
Crash test ratings have yet to be determined for the 2018 Soul. Since no structural modifications have been made to the latest model and only minor cosmetic changes come into play, it's expected to fall right in line with its predecessor with a solid side, frontal, and overall rating of five stars, and four stars in the rollover category.
Bottom Line
Kia is being a bit elusive with its plans for the new Kia Soul, but a few design alterations stand to give it an even sleeker appearance than before. Base models offer all the essentials, and once you get into the higher trim levels, technological innovations become more evident. Performance and efficiency remain strong with no fears where safety is concerned.
We're expecting the new arrivals to make their appearances late this year, so if you're looking to check out a 2018 Kia Soul near Rio Rancho NM, you won't have much longer to wait. Call Fiesta Kia at (844) 693-8249 or visit our website for further updates, and be sure to stop by for a test drive once they start rolling in.