First introduced in the United States in 2002, the Kia Sorento has come a long way since then. The original vehicle was a boxy truck while the latest version is a stylish SUV. Many people won't even recognize the two as the same vehicle thanks to its evolution. Every year has seen something new, and the 2018 Kia Sorento Albuquerque NM is no exception. This year's model features upgraded technology and improved styling along with a better ride. This vehicle is capable of seating seven, offers drivers an enjoyable experience, and comes with the generous warranty Kia has become known for. Drivers should be sure to head to one of our 2018 Kia Sorento dealerships to check it out when it becomes available.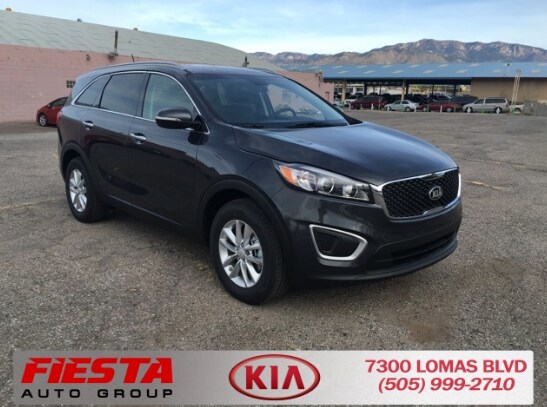 There appears to be some disagreement among experts regarding exterior changes to the Kia Sorento for the 2018 model year. As this vehicle recently was remade from the ground up, many people are stating only minor changes will be seen this year. This includes things such as a revised grille and redesigned fog lights and headlamps. It does appear the exterior will be more aggressive and have a sportier look, but there's no way of knowing just how far Kia has taken this, so it will be something to watch for when the vehicle debuts.
Other individuals feel the 2018 Sorento will actually look significantly different from the 2017 version. The reason they believe this is the case is that recent glimpses of the Sorento showed a vehicle wrapped in puffy material. Much of this material was found in the front and rear of the car, leading them to believe the front fascia will undergo a transformation along with the grille and lights. They report on more hidden features, however.
For example, those who spotted the car with this padding believe the entire body has been modified. They expect the new Sorento will have a curvier body, one that is most apparent in the doors and wheel arches. Kia took this even further, they believe, and also updated the side mirrors and rear window among other things. It will be interesting to see which group is right when this vehicle debuts in the coming months, but one can expect to see a difference in the exterior styling of the car.

The interior of the Kia will also see some changes for 2018. For example, dealers anticipate seeing new leather options drivers can select from, including dark brown and beige. Wood inserts are expected, and the infotainment screen will likely be larger. However, very few other changes are expected, which isn't surprising. Kia has done a nice job on the interior of the Sorento, thus they simply aren't needed. The controls are easy to use, the instrumentation is easy to see, and the materials are of good quality. In addition, this vehicle tends to come well equipped, and drivers have a variety of options they can choose from when upgrading. There really is no need for major changes in this area as a result.
At this time, Kia offers three engines. The 2.4-liter four-cylinder provides 185 horsepower, while the turbocharged 2.0-liter four-cylinder provides 240 HP. The third option is a 3.3-liter V6 that offers 290 horsepower. The engine choices available to a driver are determined by the trim level that is selected. All models come with an automatic transmission, and a driver has the option of upgrading to all-wheel drive. What many do anticipate seeing is a slight increase in the fuel economy of this model. While it probably won't be much, any improvement in this area tends to be greatly appreciated.
One area where Kia truly excels is when it comes to the standard features found in their vehicles, such as Bluetooth and leather trim, depending on the trim level the driver selects. Comfort and safety aren't reserved for those drivers to purchase an upper trim level. Kia allows drivers to purchase optional features on most models. In fact, all Sorento vehicles, other than the L version, can be obtained with a range of options, including radar-based adaptive cruise control that allows the driver to determine a set following distance for the vehicle to maintain and autonomous emergency braking. Other options include lane-departure warning and forward-collision warning.
Learn about the 2018 Kia Sorento by visiting one of our dealers today. Although this car cannot be seen on the lot at this time, the dealers can provide additional information about what drivers can expect. In addition, a person may drive the 2017 version to get a better feel for the vehicle, although holding out for the 2018 Kia Sorento Albuquerque NM is a smart move. The new version will be even better than this one. We are sure of this and will be happy to point out any changes that are seen when the car becomes available in the very near future.