With sharp looks its manufacturer proudly dubs "un-hybrid," the 2018 Kia Niro near Rio Rancho is a fuel-sipping, compact head turner with plenty of interior space. The crossover SUV segment has become somewhat crowded in recent years, but the new Niro proves there are still plenty of ideas worth exploring.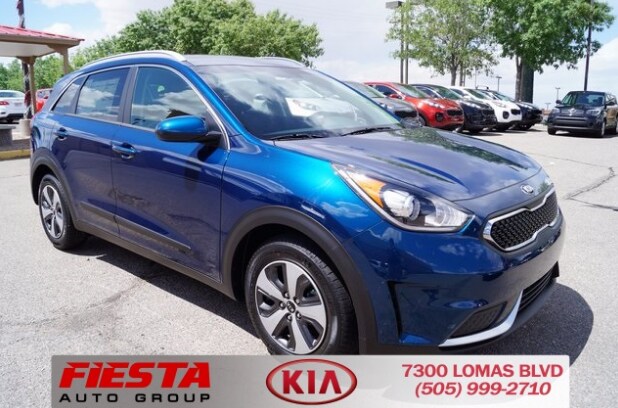 Thanks to the addition of an all-electric mode ready to travel over 30 miles after being charged, the new Niro Plug-In will enable emissions-free errands and local commutes. For those looking to combine a spacious interior and elevated seating with hybrid-enabled subcompact fuel economy, a test drive of the 2018 Kia Niro Near Rio Rancho NM should be a top priority.
From Iconoclastic Concept to Record-Setting Execution
Kia's Niro first cropped up in 2013 at the Frankfurt Auto Show where it took the form of a three-door concept car with some truly striking lines. Although Kia's other hybrids tend to follow in the smooth-flowing mold of the Toyota Prius in terms of their styling cues, the Niro stakes out very different design ground.
Last year's Niro was the first production version, and it attracted plenty of attention with a cross-country trip that earned it a spot in the Guinness Book of World Records. Managing an impressive 76-plus miles per gallon over thousands of miles of very careful driving, the 2017 also looked great doing it.
Updating and Refining One of 2017's Most Exciting Crossover Cars
For 2018, Kia has preserved everything that reviewers and buyers loved about last year's conventional hybrid while also adding another version with a brand-new, plug-in-enabled, all-electric mode. The assertive, rally-inspired styling so many critics and owners love has been massaged just a bit, with the looks of the new Kia Niro suggesting exciting adventures yet to come.
Still boasting the same appealing crossover stance, the new Niro retains the clearance and visibility that helped make the original hybrid such a hit. It once again couples a 1.6-liter turbocharged engine with an electric motor to boost fuel efficiency under normal driving, with last year's hybrid achieving a 50 miles-per-gallon combined EPA rating.
Most importantly, the new model year will continue to do this at a price an average buyer can easily afford. While official prices for the as-yet unreleased 2018 Kia Niro in NM have yet to be firmed up, most expect that the basic trims will once again significantly undercut the nearest competition. Although there have other crossover hybrids on the market, none have stirred up as much excitement as last year's Niro, and the 2018 model is looking even better.
The 2018 Niro Plug-In Hybrid Ups the Ante with a New EV Mode
What will make a visit to a 2018 Kia Niro dealer even more mandatory for many is the upcoming car's plug-in mode. With only a charging port and a special "Eco" badge setting it apart visually, the Niro Plug-In stays thoroughly true to the design roots put down by the 2017 Niro Hybrid.
Ready to drive in LX, EX, and EX Premium trim levels, the 2018 Niro Plug-In covers everything from economy-focused practical service to options like heated seats and a Harman/Kardon sound system. Once again, owners will enjoy an appealing mix of contemporary styling and interior space, making for a highly practical car that remains fun to drive.
Even with so much the same, however, the 2018 Niro Plug-In conceals some startling improvements and upgrades, as well. The all-electric mode that gives the new version of the Niro its name feeds from a far larger battery, with capacity boosted by a factor of more than five compared to the 2017 hybrid model. Storing nearly nine kilowatt-hours of power, the new battery will propel the Niro Plug-In up to 34 miles in everyday driving, according to the manufacturer.
Kia has accomplished this by carefully fitting the extending battery beneath the new Niro's rear seats and under its cargo compartment, preserving all the interior space that owners of the 2017 version appreciate so much. At the same time, a new Eco-DAS assistance mode helps drivers improve their fuel efficiency figures further when under standard hybrid operation.
This Will Be an End-of-Year Launch to Remember
With the 2018 Niro in its various trims and versions set to launch toward the end of the year, anticipation is already running high. The 2017 Niro was the first crossover hybrid to convert many buyers with its impressive styling, value, and features. By adding a new Niro Plug-In model to its 2018 catalog, Kia is getting ready to do the same for those who have not yet quite come fully on board with plug-powered, all-electric operation.
As the first plug-in hybrid to check all the most important boxes, the 2018 Niro is certainly going to make plenty of waves in the area. As a result, interest in the 2018 Kia Niro Near Rio Rancho NM is exceptionally high already, even with the official launch of the car still some time off. Whether for those after an updated version of last year's Hybrid or others interested in the Plug-In, we're looking forward to showing off the new Niro.