The Kia Forte has a big birthday coming up, and Fiesta Kia dealership is ready to celebrate. This vehicle turns ten this year, and the manufacturer has decided to update it before the big day. We aren't the only ones, however. Drivers want to take part in this event, as they have come to fall in love with Kia over the years. While Kia opted to update this vehicle in 2017, they weren't done. Experts are predicting there are more changes coming this year, and it is exciting to see what they have in store.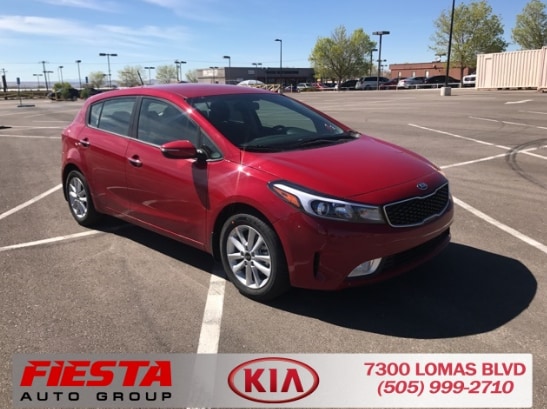 The 2018 Kia Forte Albuquerque NM is expected to come with a new engine option. Drivers will likely be able to select a 2.0-liter engine capable of producing 210 horsepower. Fuel economy isn't sacrificed, however, as fuel consumption is expected to increase to 37 miles per gallon. This option will be offered along with the 1.6-liter unit that produces 150 horsepower and the 1.8-liter engine. Both manual and automatic six-speed transmissions will be offered also. These aren't the only changes experts are anticipating though.
One area where drivers have stated the Forte is lacking is the interior, and Kia is looking to change this. For example, look for the overall seat space to increase dramatically, as this has been an issue in the past. Kia is expected to go much further than this, however, and include a number of other updates and refreshers to please more drivers. Some experts believe Kia will update the interior with voice command navigation, satellite radio, an intuitive touchscreen display, Bluetooth, and more. We will have to wait for the first look at this car to see if this is actually the case but count on great things for the Forte this model year.
Previous versions of this car came with features drivers love, and they are expected to remain in place. For example, controls on the steering wheel make it easy to oversee many functions in the vehicle. Drivers could also choose to upgrade to heated and ventilated front seats or add a sunroof, and these options will likely still remain available.
The exterior will probably be very similar to last year's model. Updates are expected in the areas of the headlights, fascia, and grill, but the overall appearance won't be very different. Drivers are okay with this, as this is one area where people have been satisfied. What people should look for when visiting our dealership is small changes. Dual heated mirrors are being predicted for the Forte along with chrome accents, a power moon roof, LED turn signal indicators, and a great deal more. Some will be standard while others will be options.
Welcome lights, as they are referred to, will probably be seen in the 2018 version of the Forte. The Door Handle Pocket Lights and Perimeter Approach Lighting are great for those dark nights when drivers are struggling to see anything, much less a door lock or key. Add to this the front LED Positioning Lights and the LED Rear Combination Lamps, and this car is sure to attract attention everywhere it goes.
The key reason Kia didn't make more changes to the Forte for this model year is the amazing equipment that is already found in the car. The Forte comes with a reinforced body and advanced airbag system. In addition, it is equipped with active headrests, and there are numerous other features to keep the vehicle's occupants as safe as possible. This is one reason why many have opted to buy the Forte in the past and will continue to do so in the future.
Technology wasn't lacking in prior model years either. Apple CarPlay and Android Auto are available for the Forte, and drivers have fallen in love with the Parking Minder. How frustrating is it to leave a store or venue only to find your car isn't where you thought it was? With the help of Parking Minder, this problem becomes a thing of the past. This handy little feature allows you to record where your car is located and, in the event you cannot find it again, a compatible smartphone can be used to help you locate it. This is only one way UVO can be of help also. UVO eServices offers an app to provide you with access to roadside assistance around the clock and monitors your vehicle maintenance.
Check out the 2018 Kia Forte as soon as it is released. With so much to love about previous model years and more changes expected for this version, this vehicle is sure to be a favorite among drivers everywhere. The sooner a person comes to the dealership to discover the 2018 Kia Forte, the more options they will have. We expect these vehicles to move quickly thanks to the low price and range of features, and you won't want to miss out.