Drivers looking for luxury, comfort, and style in a vehicle with an affordable price need look no further than the 2018 Kia Optima. The manufacturer opted to completely redesign this vehicle to better meet the needs of its customers, and the end result is amazing. This full-size sedan now comes with spectacular styling and class at an affordable price, allowing it to truly stand out from its rivals. Visit one of our 2018 Kia Optima dealers in NM in the very near future to take this car for a drive, and you are sure to be impressed. Kia continues to find ways to make a great car even better, with the new Optima exemplifying this commitment in every way.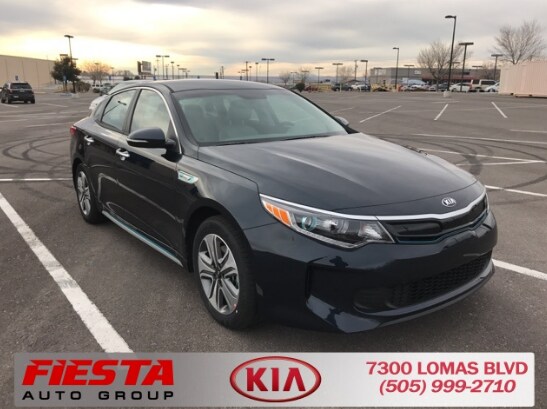 What's New For 2018
Individuals looking at the 2018 Kia Optima Near Rio Rancho NM find the company has chosen to upgrade the technology in this car. In addition, they have equipped it with a higher performance engine to provide the power drivers want from their ride. The company didn't stop there though. They also choose to redesign the exterior to further improve the looks of this vehicle, and the combination of these three changes will certainly impress all who take this model for a test drive.
Interior Features
The 2018 Kia Optima in NM has new interior features, some standard and some optional. An HD touchscreen display is one feature, with 3D navigation being another. Drivers love the paddle shifters and push button start/stop, while all who ride in the car truly enjoy the dual-zone climate control, satellite radio, and wireless internet. Passengers in the back appreciate the heated rear seats and rear window shade. Other notable features that may be obtained include HID headlights, Smart Key, a surround view monitor, and a panoramic sunroof. Visit one of our dealers today to learn more about these and other features of the 2018 Kia Optima.
Features found in the Optima do vary by the trim level selected. The SXL comes with a premium sound system, LED lights, and 12-way power adjustable seats. This car likewise is equipped with automatic dynamic headlights, heated seats in both the front and rear, and autonomous emergency braking. Purchase this model and also receive LED lights, a 360-degree view camera, and a steering wheel wrapped in leather. The GT boasts 19-inch rims, special badges, and Bluetooth, among other things. Choose this model and get rear cross traffic alerts, blind spot monitoring, leather upholstery, and a range of additional features.
Exterior Features
Kia also focused on the exterior when redesigning the Optima. This year's model will come with a wider grille and wheel base. In addition, the weight of the body has been reduced, and new headlights will be found on this car. The new headlights are going to be seen across the Kia lineup and will provide the Optima with a sportier look. Eighteen-inch alloy wheels are standard on this model, but drivers who select a higher trim model receive chromed wheels. New color options are anticipated as well, and car buyers can expect to see other differences in the Kia Optima when they visit our lot.
Engine And Transmission Options
Early reports say drivers will choose between a number of engines when purchasing the Kia Optima. This includes a 2.4-liter unit capable of producing nearly 190 horsepower and 178 lb-ft of torque, a four-cylinder 2.0-liter engine offering 245 horsepower and 260 pound-feet of torque, and a 1.6-liter turbo unit that offers 178 horsepower and 195 pound-feet of torque. However, the 1.6-liter unit will only be offered in the LX, or base model, of the Optima. The 2.4-liter engine and 2.0-liter engines are paired with a six-speed automatic transmission, and the 1.6-liter unit is coupled with a seven-speed automatic transmission.
Fuel Economy
Estimated fuel economy for this model is 23 to 30 mpg in the city and 33 to 40 mpg on the highway. The 2.4-liter unit gets approximately 25 mpg in the city and 36 mpg on the highway. For the 1.6-liter unit, expect 28/37 mpg. Select the 2.0L turbo unit, however, and these figures drop to 22 mpg in the city and 31 on the open road. Drivers find these numbers to be similar to those seen with other vehicles in the class, thus fuel economy becomes less of a consideration during the car buying process.
Visit our dealership today for more information on the 2018 Kia Optima Near Rio Rancho NM. Luxury doesn't have to be expensive when it comes to a car. Kia has found a way to provide drivers with everything they want and need in a vehicle without making a huge dent in the budget. This is one model that should never be overlooked. With the changes Kia has been making to their lineup, this vehicle could quickly overtake some of its higher price competitors in a short period of time and be the car to drive.