Drivers looking for a full-size sedan that offers luxury at an affordable price will find their dream car in the 2018 Kia Cadenza Near Santa Fe NM. This vehicle falls in the Kia lineup just above the K900 and the Optima and fills a nice void in the sedan market. It features a 290 horsepower, 3.3-liter V6 engine that is combined with an eight-speed automatic transmission. Furthermore, the incredible machine comes with a variety of standard features drivers are sure to love, including a 7.0-inch touchscreen, keyless entry and start, Bluetooth, and a rearview camera. Individuals in the market for a new family car will want to head over to our 2018 Kia Cadenza dealership to take this vehicle for a test drive today.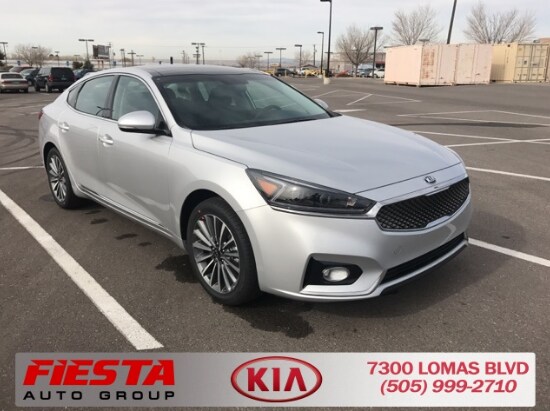 Although a number of changes were made to the Cadenza in 2017, experts feel there will be more coming to the 2018 Kia Cadenza, and these changes will have a significant impact on the car. What won't change is the value for the money, as this is what Kia has become known for. The manufacturer continues to incorporate high-end features in their lower trim levels, including items such as adaptive cruise control and a power-operated trunk, as they know drivers want and need these items and appreciate getting them for an affordable price.
Changes seen in the 2017 model include more luxury features added to the trim levels. The driver's seat was lowered and extended to provide more comfort, and this vehicle now includes a heads-up display and automatic smart trunk opener. On the exterior, drivers noted a new hexagonal grille that allows the Cadenza to stand out from other vehicles in the manufacturer's lineup and Z-shaped lighting. The wheelbase was extended to provide more legroom in the rear, and the trunk space grew slightly.
Driving dynamics improved as a result of increased structural stiffness in the 2017 model. This was not the only thing that contributed to this improvement, however. Kia opted to retune the steering and suspension to help in this area. Stopping distances also decreased thanks to larger brakes on the front of the Cadenza. Overall, people were very pleased with the styling, interior, and available tech on account of these changes. In fact, AMCI testing found that the 2017 Cadenza offered better overall handling and performance than the Lexus ES 350 from the same year, yet came with a more affordable price. Furthermore, it offered a smoother overall ride than the Toyota Avalon Limited. Drivers are sure to appreciate this once they get behind the wheel and see what this car can do in real-world conditions.
The 2018 Kia Cadenza Near Santa Fe NM will have additional changes to the interior. Five people will easily be able to fit in the cabin, and they will now have even more leg room to do so. In addition, drivers will find the redesigned dashboard to be easier to use, and new features have been added for their benefit. This includes 3D and GPS navigation, a large touchscreen, and a Krell audio system. Safety and security remain priorities of Kia, and the 2018 Cadenza will come with items such as independent Urgent shutdown, High-Ray support, and blind spot monitoring. This doesn't mean the occupants of the vehicle won't be comfortable. Kia didn't cut corners here either and now offers Nappa leather seats and other options.
What drivers can expect to see with the 2018 Kia Cadenza around NM is a sportier exterior. This car will feature items such as an updated grille, a new bumper, and more LED technology in the lights. This includes the headlights and fog lamps, which now provide the Cadenza with a more elegant look. In addition, the rear lights have been upgraded to offer a more aerodynamic look and feel to the car, and these are only two of the changes experts are predicting to see when this car is released.
The 2017 model also had a number of safety features drivers want in their car, and these same features are expected to be seen in the 2018 version, possibly with some additions. These include a driver's knee airbag, smart blind-spot detection, smart cruise control, and autonomous emergency braking. Safety is a top priority and Kia recognizes this, continuing to look for new ways to improve in this area.
People often overlook the Kia Cadenza simply because they aren't familiar with the brand or don't truly know what the manufacturer offers. Don't fall into this category, as you will be missing out on a great car. Why settle for average when luxury is at your fingertips? Visit our dealership today to see why so many individuals have fallen in love with the Cadenza. Once you take it for a test drive, you will find you fit into this category too. This is an amazing vehicle in every respect and one that any driver would be proud to own.