Why are so many people looking forward to the release of the 2018 Kia Soul Albuquerque NM? This vehicle remains the manufacturer's top-selling model in the United States and has now taken over the top spot in terms of the small crossover market. Kia isn't resting on its laurels, however. They continue to find new ways to make this model even better, leaving drivers to eagerly await each new model year to see what has changed. The fact that this vehicle also earns the top spot in its category for quality is just an added bonus in the eyes of many car shoppers. As with the new Kia Sorento, the Soul has been kept under wraps, and there is some debate as to what the 2018 version of the model will look like.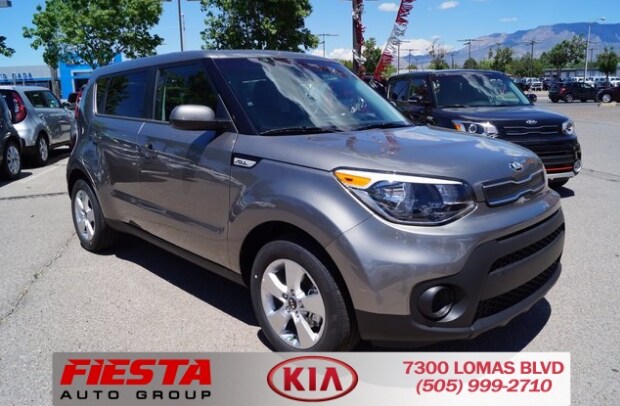 The 2017 Kia Soul had many things going for it. First and foremost, it had an upscale interior and ample room for both passengers and cargo. In addition, the Exclaim trim level offered a new turbocharged engine option, and Apple CarPlay and Android Auto both began being offered in this model. Its distinctive look was a hit with drivers as well. With so much to love about the 2017 Soul, what changes could be made to make this year's vehicle even better?
Expect improvements in the 2018 Kia Soul exterior. It appears the background roof color will differ from the rest of the body, and this machine will feature two radiator grilles as opposed to one. The windscreen is wider, the LED headlight optics are elongated, and the fog lamps will be found on the bumper skirt near the bottom. These are only the changes in the front of the machine also. There are others found in the back, including widened wheel arches to boost the ride height. Overall, car buyers will notice a streamlined appearance to the new Soul.
In terms of the interior, Kia has made some changes here also. Dark plastic dominates the cabin and is offset by chrome trim. Leather accents may be found in the gear selector box and the steering wheel, and the 2018 Soul comes with a five-inch screen. The layout of the dashboard won't change for this model year it appears, yet this is one area drivers have been satisfied with in the past. It's no surprise Kia has opted to leave it alone due to this.
With regards to engine choices, don't count on significant changes in this area either. The 2018 Kia Soul Albuquerque NM will come with either a 1.6-liter engine that produces 120 horsepower together with 118 lb-ft of torque or the 2.0-liter four-cylinder engine capable of producing 164 horsepower and 151 pound-feet of torque. Select the base model and choose from an automatic or manual transmission. Higher trim levels only come with the automatic, thus drivers need to determine if a manual transmission is of importance to them. The Soul EV isn't expected to change other than seeing a boost in electrical range. At this time, the vehicle can go 93 miles, but experts are predicting this figure will be much higher for the 2018 model year.
What makes the 2018 Kia Soul in NM so attractive to many buyers is its low list price, and this isn't expected to change significantly in the coming year. Kia has found a way to make affordable cars that drivers love and want to buy. They don't appear to be changing that formula in the near future, as it has provided them with great success. Drivers can expect to see a slight increase over last year's prices, with the final amount depending on the trim level that they ultimately opt for. This likely plays a role in the success of this model, as US News and World Report listed the Soul as the number one compact car for 2017.
Safety scores have been excellent for this model, and drivers are sure to appreciate this. Furthermore, the Soul offers one of the longest warranties of any vehicle today, making it the perfect choice for a person's daily commute. It's a very versatile car, one that can carry kids in one trip and cargo the next with ease, thanks to its ample space. People rave about its family-friendly features and it offers value and quality in one great ride. What more can people ask for from a car?
Visit our 2018 Kia Soul dealership to learn more about what to expect in the coming model year. This is one car we truly love and enjoy showing off, as it offers so many features for a great low price. Head on over to visit us today. Even if the Soul isn't what you are looking for, we have plenty of other models to see, and one is sure to meet your needs. Kia only continues to improve on their lineup, and we are thrilled to share their offerings with you.