Purchasing a crossover SUV like the 2017 Kia Sorento near Santa Fe NM comes with far more advantages than the family sedans of yesteryear. For one thing, both the kids and their gear can fit into the vehicle without needing to play elaborate, and often illegal, games of passenger Tetris. For another, crossover SUVs like the Kia Sorento are capable of handling just about any weather conditions. That means last-minute family ski trips to nearby Colorado are no longer off the table.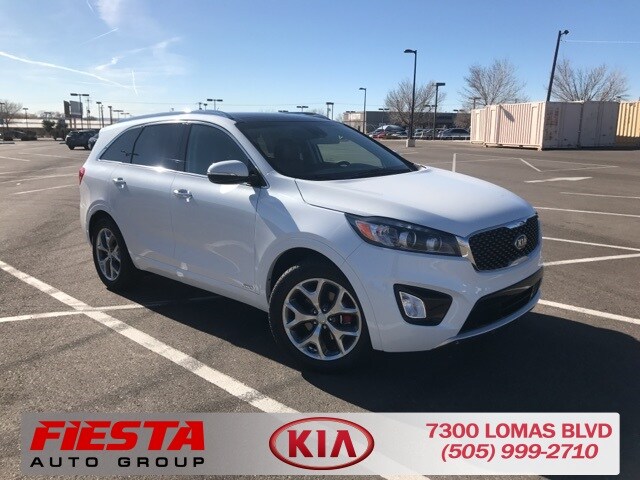 Versatility Comes Standard
With 7.3 inches of clearance and a 5,000lb tow rating, the Kia Sorento is capable of much more than the average family car. It even has a 50/50 diff-lock mode that splits power for better traction on snowy roads. That doesn't mean it places comfort on the back burner, though. Recent improvements to interior design have added extra cabin space. Said improvements have also dramatically impacted driver and passenger seat comfort, where extendable thigh support and available height and tilt adjustable seats help the Sorento give even its pricier competitors a run for their money.
The Sorento's second-row seating utilizes a bench design, allowing it to offer a little bit more legroom and making it easy to flip the seats forward and fold them down for extra cargo space or better access to third-row seating. Additionally, the Sorento's comparatively long body and better-designed interior provide more cargo space than many of its top competitors even with the third-row seats intact. Top trim levels include power folding controls and a remote tailgate release.
Design and Safety Improvements
In addition to providing a little bit of extra space in this year's model, designers have also improved the Sorento's durability by doubling the use of high-strength steel. This move has certainly paid off in the form of a more solid feel, better noise suppression, and improved safety. Plus, it hasn't had any appreciable impact on the vehicle's weight or fuel economy.
When it comes to passive safety ratings, the 2017 Kia Sorrento gets a five-star crash test rating from the NHTSA and a Top Safety Pick designation from the IIHS, both impressive feats for a mid-size crossover. Its forward collision system has been upgraded this year and is now available on a wider range of models. Plus, every trim level comes standard with front seat-mounted side airbags, side curtain airbags equipped with rollover sensors, front active headrests, electronic stability control, hill start assist, and more. Advanced active safety and driver assistance technologies like adaptive cruise control, automatic emergency braking, and lane departure warnings are optional on all mid-level and premium trims, and both rear cross-traffic alerts and blind spot monitoring come standard on EX V6 models and above.
Available Trim Levels
This year's Kia Sorento is available in five trim levels. The L and LX are basic models, the EX is its mid-range model, and the SX and SX Limited round out the selection on the premium end. It's important to note that some trim levels are only available in either five or seven passenger models. The L model, the EX 2.0T, and the SX Limited are all five-passenger models, and the SX, the LX V6, and the EX V6 can only be purchased as seven-passenger vehicles. Although even the basic L model comes standard with a number of comfort and safety features, as one of the area's most trusted Kia Sorrento dealers, we feel we owe it to our customers to suggest at least taking a more advanced premium model out for a test drive prior to making a final decision.
All trim levels come standard with six-speed automatic transmissions and front-wheel drive. All-wheel drive is also available on every model except the L model. The L and LX trim levels are powered by an 185hp 2.4L 4-cylinder engine. Mid-level EX 2.0T models boast a more powerful 240hp 2.0L 4-cylinder turbocharged engine. SX and SX-Limited trims come standard with a 290hp 3.3L V6, which is also available on the LX and EX models. Every available engine is designed to balance performance with fuel economy and, as a result, the new Sorento boasts surprisingly decent gas mileage for its class. Most Santa Fe Kia Dealerships report that drivers prefer the V6 engine for its extra power boost though, regardless of what trim level they choose.
Add those options to the standard Driver Mode Select, which is included in every new Sorento, and what drivers get is a solid starter package with a healthy number of reasonably priced available upgrades.
Driving is Believing
Looking for a 2017 Kia Sorento near Santa Fe NM? As one of the most highly regarded Kia Dealerships near Santa Fe, we can confidently say that we can help drivers find the trim levels and options packages that will allow them to drive away happy. Head on in to get answers to any questions, discuss available financing, or take a new Sorento out for a test drive today.