The crossover market continues to expand, as drivers have repeatedly shown their interest in this type of vehicle. The 2018 Kia Niro near Santa Fe NM won't disappoint those who fall into this category. It has everything drivers are looking for in their ride and a great deal more they didn't anticipate. The new version comes in a growing range of Kia hybrid and EV vehicles, and many drivers are eagerly anticipating the release of the Plug-In Hybrid Electric Vehicle, or PHEV, option.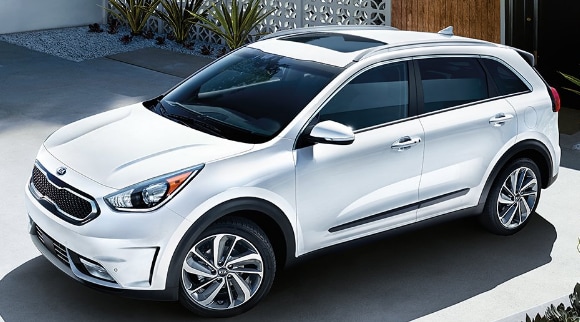 Although it has yet to be released, experts state this vehicle demonstrates what the future will hold for these types of cars while still offering the performance and utility this vehicle has been known for. The fact that it is designed to go completely electric is considered to be a bonus, and this model will soon be available at Kia dealers near Santa Fe.
Fuel Efficiency
One reason many drivers choose a hybrid or all-electric vehicle, such as the 2018 Kia Niro, is they want to reduce their fuel usage. When a potential buyer visits one of the Kia dealerships near Santa Fe, they do so with the idea to test drive a hybrid or all-electric vehicle. They are then pleasantly surprised to find the new Niro also comes with an Eco-Das, or driver assistance system, that works to ensure the vehicle operates at maximum efficiency on designated routes. This allows the driver to not only save more at the gas pumps but also benefits the planet.
The Wave Of The Future
Kia has demonstrated time and again that their goal is to provide consumers with more alternative fuel vehicles. In fact, the VP of Product Planning for Kia Orth Hedrick states the company wishes to achieve this goal by 2020. The Niro is a great example of what drivers can expect to see over the coming years, and they are excited. In fact, Santa Fe Kia dealers expect to see people coming into the showrooms simply to learn more about these models, and many will leave behind the wheel of one.
Features Drivers Will Love In The New Kia Niro
Individuals often wonder if they will have to sacrifice certain things in order to get a hybrid vehicle. With the Niro, this is never a concern. Those who choose to take this model for a test drive will find the performance to be dynamic, the functionality to be outstanding, and the style to be impressive. This vehicle is expected to have some added features that are only found in the plug-in models, such as the charge port and eco badge. Both help to distinguish the 2018 Niro from other models on the lot.
Trim Levels
Drivers need variety when it comes to their car buying choices. Some drivers want a car that is fully loaded with every feature known to man. Others, however, want a basic model with very few amenities. Individuals who opt for the new Niro Plug-In Hybrid will find they have several trim levels to choose from. This ensures the driver who wants a heated and ventilated front seat will be able to purchase one, and the driver who wants the bare minimum when it comes to electronics will find a crossover he or she is comfortable with too.
Power
Kia states the Niro Hybrid will be powered by a 1.6-liter, four-cylinder engine coupled with an electric motor/generator that makes use of a 1.6-kWh lithium-ion battery. This combination is found in the base model, and drivers discover they can opt for a plug-in model that boosts the energy capacity thanks to an 8.9-kWh battery pack. Kia claims this plug-in version, when fully charged, can easily go 34 miles before it must be charged again.
Optional Features
Some drivers choose to purchase a crossover as they want their vehicle to be capable of doing more. For those who fall into this category, there is an optional towing package soon to be offered. When this package is selected for the plug-in Niro, the towing capacity will be 2866 pounds overseas, but experts predict when this option is offered at a later date, the towing capacity won't be as high. Drivers will have to wait and see when the package is released in America and what the rating actually is.
Head over to a Kia dealership today to learn more about the 2018 Kia Niro near Santa Fe NM. Although this vehicle is not currently available for sale, our staff members will be happy to answer any questions and provide more about this model. In addition, we will be pleased to show you other models on the lot and allow you to take one or more for a test drive. You may find you fall in love with a car we currently have or decide to wait until the 2018 Niro is released. We can be of assistance in either situation.