Fresh off a 2017 redesign, the 2018 Kia Sportage looks sharp, offers plenty of comfort and safety amenities, and has one of the industry's best warranties. These qualities, among others, allow the Sportage to hold its own among its rivals. This year's model offers great value, stylish looks, and a long list of available features. Here, drivers can learn more about the 2018 Sportage, which can be seen at local Kia dealers.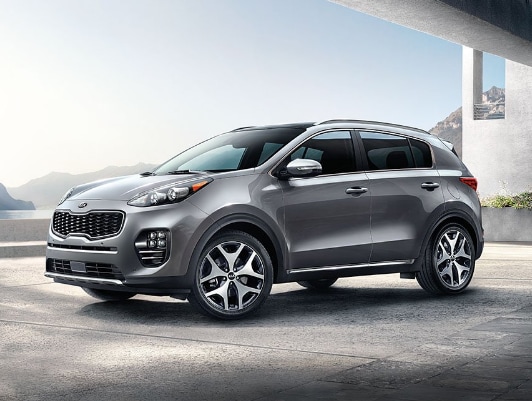 What It's Like Behind the Wheel
With engine options and a standard automatic gearbox from the previous year, the 2018 Kia Sportage near Albuquerque isn't drastically different from the 2017 model. While it's easy to see that the turbo model is the fastest (it puts out 240hp), the 181hp four-cylinder engine may catch some by surprise. Power delivery is smooth, and the engine works well with the standard six-speed automatic. We recommend the standard engine for its great fuel economy, but the turbo version is a great performer as well. The Sportage's power steering has a natural feel, and the suspension has been tweaked to lessen its harshness. The 2018 Sportage, with all its power and features, is a worthy contender in its class.
Our Favorite Features
While other car makers have gone to finicky touchscreen audio and climate controls, Kia has, thankfully, stuck with physical switches. We also like the fact that the display screen and switches are slightly angled toward the driver's seat for enhanced reach and visibility. The Sportage has a surprising number of features that were once found only on luxury SUVs. Amenities like climate-controlled seating, a heated wheel, upgraded audio, and a power lift gate put the Sportage squarely in the upper class.
Interior Details
The Kia Sportage's two-row, five-passenger cabin is a nice place to be. The driver's seat is positioned for maximum visibility, and the cabin has ample storage as well as 12V and USB outlets. There's more than enough legroom for rear passengers, and the seats recline for greater flexibility and comfort.
Utility
The powered rear liftgate can really come in handy, and the mirrors fold in as the vehicle is locked. While the 2018 Sportage is focused on style and build quality rather than utility, customers will not be disappointed with the vehicle's cargo room unless they plan to do a lot of hauling. While cargo space isn't a strong point for the Sportage, it's ample at 60.1 feet with the rear seat folded down.
On the Outside
The 2018 Kia Sportage keeps its sloping roof and athletic stance, but it's just different enough to catch the viewer's eye. The most notable design element is the new front end, which features the same grille design that Kia is known for. The body panels were redesigned last year, and the sweeping taillights are a nice touch. The SX Turbo Sportage looks the part with its dual exhaust tips, and AWD models have increased ground clearance and a different front fascia.
Standard Features
The 2018 Sportage is sold in three trim levels: LX, EX, and SX Turbo. The base model is well-equipped, with its five-inch touchscreen display, backup camera, six-speaker audio system, Bluetooth connectivity, drive mode selection, and auto headlights. We suggest the mid-range EX, which features Kia's UVO infotainment interface, seven-inch touchscreen, Android Auto and Apple CarPlay, power adjustable driver's seat, leather, dual climate controls, and roof rails. All Kia Sportage models come with a top-of-the-line 10-year/100,000-mile powertrain warranty.
Available Options
All 2018 Sportage models from Albuquerque KIA dealers can be bought with AWD that includes a locking differential for better traction on slick roads. Along with the line's most powerful engine, the SX Turbo has features that are only options on the EX: navigation, a larger touchscreen, blind spot monitoring, rear cross-traffic alert, lane departure warning, auto emergency braking, a power lift gate, a panoramic sunroof, ventilated and heated front seats, and a heated steering wheel. While the premium Harman/Kardon audio system doesn't have a CD Player, its Clari-Fi technology can play digital files flawlessly.
Lifting the Hood
Both four-cylinder offerings in the 2018 Kia Sportage near Albuquerque are a carryover from the last model, but each has been tweaked for increased fuel economy. While horsepower readings have declined slightly, both the 2.4L standard and the 2.0L turbo have more than enough power to get things done. Front-wheel drive models have a fuel economy rating of 23/30 city/highway, while the turbo AWD gets 20/23. All Kia Sportage models' engines are mated to six-speed auto transmissions, and each model is rated to tow 2000 pounds.
While the 2018 Kia Sportage near Albuquerque may not always be the least expensive option, it's definitely worth considering because of its plush ride and its design quality. For buyers who want a great value for their money, the 2018 Kia Sportage is a worthy contender. Call us to learn about the 2018 Sportage, or visit Kia dealerships near Albuquerque to see and drive the latest models.