Anticipated Changes Prequel the 2023 Kia Sorento near Rio Rancho NM Release
The 2023 Kia Sorento near Rio Rancho NM sparks excitement and anticipation right out of the gate. With talk of a facelift and added features, an already exemplary example of driving innovation stands ready to repeat history. While the present Sorento has reigned as a considerable success, its latest version should continue the tradition.
New to Sorento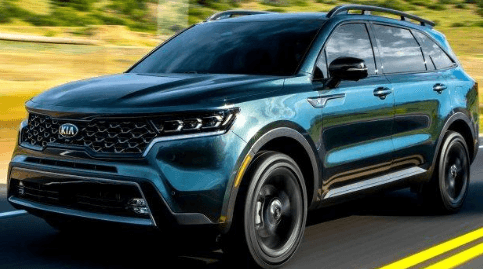 The 2023 Kia Sorento near Rio Rancho NM will feature an extended front end with a noticeable slant bestowed on the front LED headlights. A grille of more expansive proportions seems to carry the thought across the entire vehicle nose with what appears to be a wider stance. As if Kia was attempting to time stamp the vehicle, the Sorento is outfitted with vertical headlights and vehicle badging that scream a vehicle of perfection. Stepping back and considering influence, one can determine that the upscaled Telluride indeed served as a game plan of sorts when initiating the final design. The Sorento almost emulates its big brother SUV, which commands a class all independently.
2023 Kia Sorento Near Rio Rancho NM: Power and Performance
The 2023 Sorento's predecessor features two different engine types. While the in-line four-cylinder version is 185-horsepower, motorists can kick it up a notch with a 3.3-liter V6 that produces an impressive total of 290-horsepower of its own. With two fewer cylinders, the difference in horsepower is not seen as significant. The new powertrain will capitalize on the fuel efficiency accompanying these engine choices and ensure a route to hybrid and electric power sometime down the road. Paired with a wider stance, not only will the new Sorento offer more legroom but a tighter and more high-performance ride.
The Hybrid
The standard hybrid system will be available to accompany the 2023 Sorento as it makes its way to dealership lots later in the year. The plug-in models might take just a little more time. No matter, the turbocharged 1.6- liter four-cylinder engine will partner with a 59hp electric motor to produce a combination of impressive 227-horsepower. The combined 37 mpg is all the proof needed. Whether it is the model available from day one, or the other taking its time on delivery, Kia enthusiasts will enjoy the absolute best in energy efficiency and engineering ingenuity.
Safety Sincerity
While each of Kia's vehicles exhibits the latest safety technology, the new Sorento is no exception. Its unique appearance and features will include Kia's signature advanced collision warning system. Lane-keeping assistance will ensure drivers keep the vehicle between the lines. Lane departure warnings help ensure the driver stays focused and refrains from drifting. Kia also provides an insurance policy of safety standards with a rear occupant alert system to ensure no one gets left behind. To learn more about the 2023 Sorento, contact Fiesta Kia at 7400 Lomas Blvd NE Albuquerque, NM 87110. Fiesta Kia has a wide selection of new and used vehicles and offers outstanding customer service. The parts and service department excels and is ready to impress from the moment you walk into the door or call