For several years, Kia has built reliable cars.
Kia maintenance in Albuquerque NM
is important to ensure your Kia vehicle lasts as long as it was meant to. Drivers must remain current on a regular service schedule. Since manufacturers don't always have the same maintenance schedules, we've put together a guide to help ensure you stick to the proper Kia-approved intervals. In addition, we've included some of Kia's maintenance plans to help cut down on out-of-pocket maintenance costs.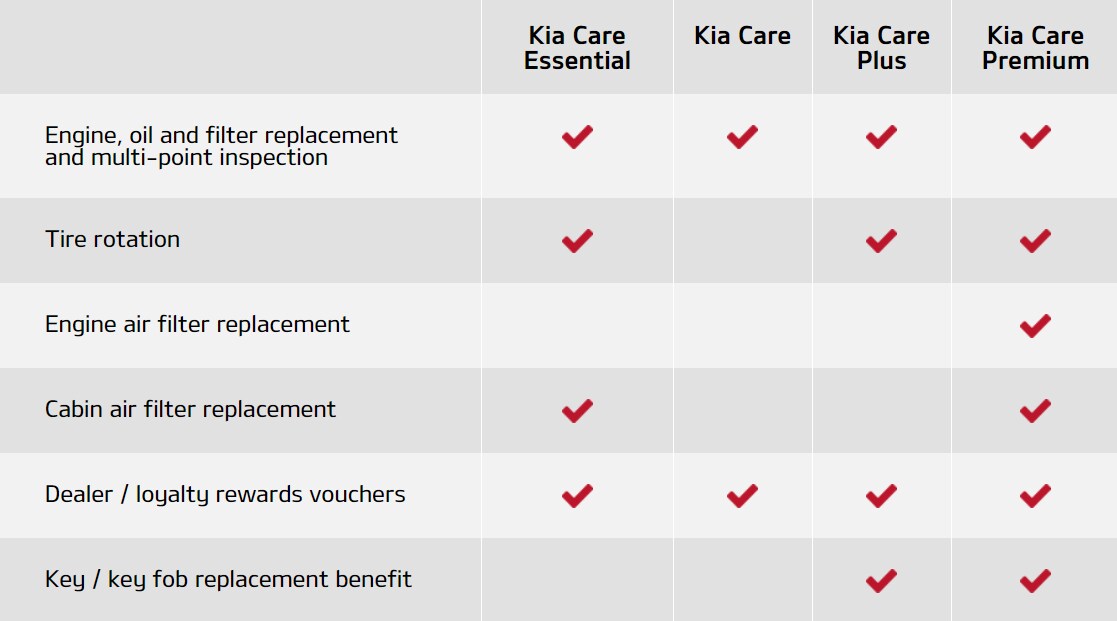 Routine Kia Maintenance in Albuquerque NM, Simplified


The best part about choosing a genuine Kia maintenance plan may be the ease of having Fiesta Kia keep track of all your Kia maintenance needs. Or maybe it's the ability to pre-pay for your routine maintenance. Either way, a Kia maintenance plan is the way to go! With three different plans to choose from, there's a plan for everyone. 



Kia Care Plan

The most budget-friendly Kia maintenance plan helps to maximize the life of your engine. An engine oil and filter change along with a multi-point inspection are covered every 3,750 or 7,500 miles, depending on the Kia's year and model. A multi-point inspection covers the following: 


    •
Brake lines, hoses, and parking brake
    •
Cooling system and hoses
    •
Suspension (damage, leaks, struts, and shocks)
    •
Battery performance and terminals
Kia Care Plus Plan


The next step up to cover the cost of your Kia maintenance in Albuquerque NM is the Kia Care Plus Plan. This plan gives you peace of mind everywhere you go by adding tire life to the mix. In addition to what's included with the Kia Care Plan, drivers with this plan get a tire rotation every 7,500 miles, key replacement services, and a Driver's OneCard Membership for cross-country perks. 
Key replacement services under this plan are available in the event of a lost, stolen, or destroyed key or key fob. In these cases, Driver's OneCard will cover the cost of repair or replacement up to $400 per single incident per year. Computerized lost key retrieval may also be available as a safe and effective way to retrieve lost or stolen keys. 
Driver's OneCar Membership includes 24-hour roadside assistance, emergency towing coverage, lockout protection for up to $50 per occurrence, and trip interruption reimbursement for up to 5 days at $100 per day maximum. 



Kia Care Premium Plan

Kia's top maintenance plan helps you breathe easy with premium care covering everything inside the cabin and out. Included with this package are all the same coverages of the Kia Care Plus Plan with some additional features. The additional features include climate control air filter replacements every 15,000 miles and engine air cleaner filter replacements every 30,000 miles. 


Certified Kia Maintenance Plans

A drawback of buying pre-owned vehicles is often the lack of a maintenance plan. Kia combats this by offering maintenance plans on certified pre-owned Kia vehicles to keep your vehicle running like new. 



Easy Maintenance

Kia Maintenance in Albuquerque NM has never been easier thanks to these plan options. Maintenance can be scheduled in advance, online or over the phone, at your convenience. Services can be performed while you wait, or you can pick up the vehicle when the service is complete. Our service team at Fiesta Kia looks forward to helping you with all your Kia service needs. 
Disclaimer: Choose from either the 3,750-mile or 7,500-mile interval plan. Consult your owner manual for what's right for your vehicle.  This page contains a general summary of features that may be included with the optional Kia Care Choice Maintenance Plan. Additional terms and conditions apply; for exact coverages, exclusions and limitations, please see your participating Kia dealer and review the relevant Kia Care Choice Maintenance Plan contract, and the Driver's OneCard Guide to Membership.