Visit Fiesta, the Kia Dealership Albuquerque, NM Relies on for the Best on the Market
Choosing a car in the 21st century has become a battlefield of ethical issues. Are you pumping an overload of emissions into the atmosphere on your daily commute? How much raw material will be used to create the new materials needed to build the car? How badly will a new car increase your family's carbon footprint? It may be a surprise, but you can find a solution at our Fiesta Kia dealership Albuquerque, NM. 
Kia's new lineup of fully electric vehicles intends to help us with this dilemma by being a different type of vehicle. The Kia EV6 is the first of an entirely new family of autos beneath the Kia umbrella. Integrating recycled materials in its interior and designed to get you further with less fuel using less power, the Kia EV6 is a crossover that genuinely encompasses what it means to be a "greener" and environmentally friendly option for your transportation. And it's coming soon to Fiesta Kia.
The Kia EV6 is different from the other electric offerings in the Kia family. First, it's the first Kia built from the ground up to run totally on electricity. Kia hybrids and prior fully electric vehicles were built upon Kia's existing platform, which forced all the necessary parts into a chassis made for an internal combustion engine powered by gasoline. Not a very good fit.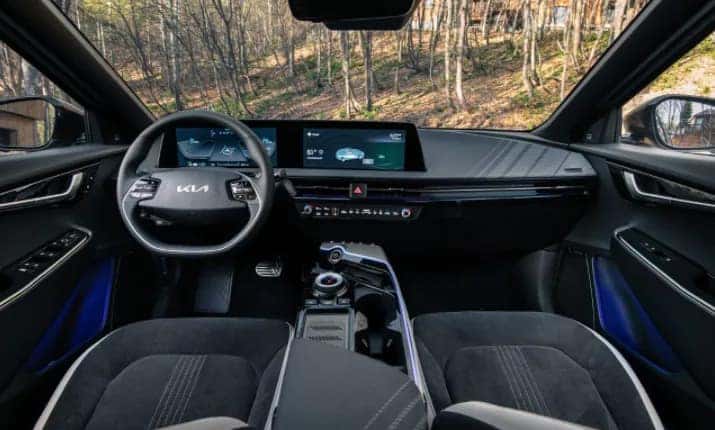 The 2022 EV6 is built upon Kia's new Electric-Global Modular Platform (E-GMP), which has several advantages. One is that it allows for a flat floor, giving the design team more flexibility for interior arrangements. Creating a more spacious cabin for drivers and passengers is much easier, along with allocating ample cargo space. In fact, cabin space in the EV6 is similar to that of midsize to large SUVs that are currently on the market. 
Saving the World While Saving Time
If electric vehicles send a message to the world, why are so many EVs still sourcing interior materials from raw products? The Kia EV6 uses more Earth-friendly materials in its interior, such as PET (equivalent to about 100 empty water bottles), than other electric vehicles do. What better way to increase the eco-friendliness of an EV than to own one that incorporates recycled products? 
Of course, the saving doesn't stop with the planet. The unique design of the EV6 saves time with its high-speed 800-volt multi-charging system. It may sound unbelievable, but you can actually charge your EV6 for a 60-mile trip in just 4 ½ minutes! Have a few extra minutes? It'll take only 18 minutes to charge the EV6 from 10% to 80% capacity using the same system. 
Kia Dealership Albuquerque NM: Award Winners
After debuting, and being on sale for only one month, the Kia EV6 earned the "Crossover of the Year" distinction at the 2021 Top Gear Awards. Judges were duly impressed thanks to its long electric range, excellent charging abilities, and exceptional performance and style, (and you will be too!). The EV6 also won the German Premium Car of the Year and is currently on the short-list for European Car of the Year 2022. 
The Kia Telluride is another award winner at our Fiesta Kia dealership Albuquerque, NM. This relatively new addition to the family isn't electric but was named 2020 SUV of the Year by Motor Trend and North American Utility Vehicle of the Year. It may not be as green as the EV6, but it's still an incredible vehicle. 
To get an up-close look at these two awesome Kia models, along with all the rest, visit Fiesta Kia at 7400 Lomas Blvd in Albuquerque, NM.