2023 Kia Sorento near Santa Fe NM: Sorento Amenities
There are fun and adventurous times waiting for you in your new 2023 Kia Sorento near Santa Fe NM. It comes with tons of standard amenities and technological features. In addition, there are many optional features to customize your Kia Sorento to fit your thrill-seeking style.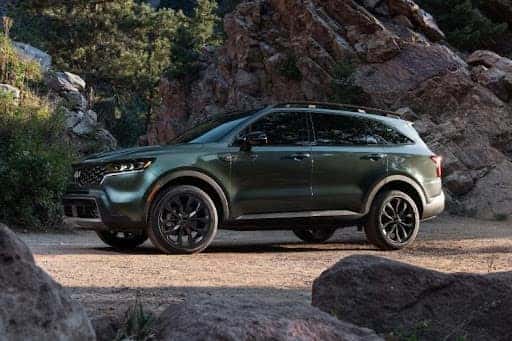 2023 Kia Sorento near Santa Fe NM
:
Features
At Fiesta Kia, you can pick up or order your new 2023 Kia Sorento near Santa Fe NM, with all the features that match your needs and style. The Kia Sorento is available in five trim levels, LX, S, EX, SX, and SX Prestige. It will also offer an X-Pro off-road model that will meet whatever challenges you present it with. The X-Pro trim level comes with all-terrain tires, heated a windshield, a stronger suspension, and a variety of drive modes. However, this is a small SUV. It comfortably holds up to seven passengers with its three rows of seating. Kia offers several packages to customize your Kia Sorento to match your driving needs. 
Kia Options
The new 2023 Kia Sorento near Santa Fe NM offers an extensive list of standard features such as Apple CarPlay, Android Auto wireless integration, USB charging ports, and lane-keeping assist. It also delivers three rows of seating for up to seven adult passengers. You will notice higher quality fabric and materials delivering a luxurious feel. The Kia Sorento offers a four-cylinder and a turbocharged option. You also have the opportunity to select the hybrid or plug-in hybrid options.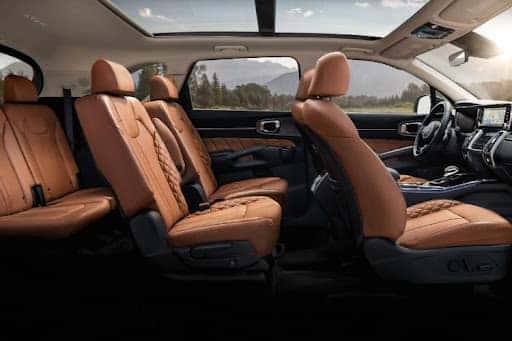 Fiesta Kia
Our fantastic staff at Fiesta Kia provides outstanding customer service and delivers excellent quality Kia vehicles. Our team's dedication to serving our community keeps our customers coming back to Fiesta Kia for all their maintenance, service, and car buying needs. We hope our customers return to our dealership when ready to upgrade to the most current model of the Kia Sorento. We understand it's been a challenge to locate inventory over the past couple of years. However, we are thrilled to offer you an extensive selection of Kia vehicles for you to explore. Our goal is to provide a massive selection of Kia vehicles for you to explore. Please drop by and let our experts help you find the perfect Kia Sorento. 
Please scan through our website to view our extensive assortment of vehicles and accessories. To provide an efficient car buying experience, we have a few links on our website for your convenience. Our professionals are prepared to answer any questions you may have regarding purchasing your new to your new Kia Sorento. Our service technicians are equipped to manage all of your routine maintenance using only authentic Kia parts.
You can stop by Fiesta Kia; our showroom is conveniently located at 7400 Lomas Blvd NE Albuquerque, NM 87110. We can't wait for the opportunity to demonstrate how we are the very best dealership to buy your next Kia. We realize there are many other Kia and used dealerships for you to work with, but we pledge none will deliver the wonderful experience that you will receive at Fiesta Kia. We are tickled to provide unsurpassed service and are prepared to show you what Fiesta Kia offers.