2023 Telluride SUV near Rio Rancho NM: Kia Telluride
The new 2023 Telluride SUV near Rio Rancho comes with a plethora of standard amenities and features. It provides a luxurious driving experience and is a perfect SUV to keep up with a busy family. You can take your family in your 2023 Kia Telluride on a summer vacation with plenty of room for luggage and spacious seating, providing a comfortable ride for the trip.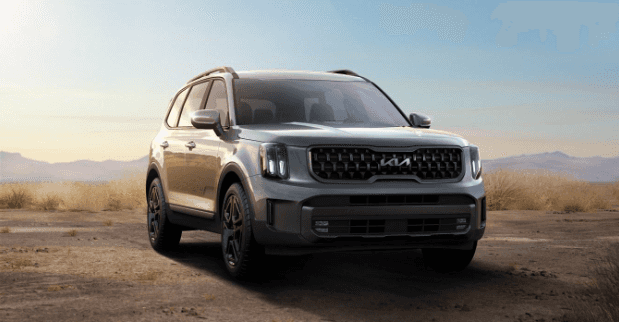 2023 Telluride SUV near Rio Rancho NM: Amenities
You will get everything you are looking for in an SUV. The 2023 Telluride SUV near Rio Rancho NM has an extensive assortment of standard amenities and safety features. It has a powerful engine with a towing capacity of over 5,000 lbs. allowing you to tow a boat, a camper, or a trailer. The 2020 Kia Telluride provides a relaxing and roomy cabin perfect for long-distance trips. 
Telluride Exterior
The new 2023 Telluride SUV near Rio Rancho NM has tons of upgrades and enhancements. It has a modernized grille, updated headlights, and an improved front bumper. The Kia Telluride will have a more robust design with six trim levels, including the LX, S, EX, X-line, SX, and X-Pro. You are sure to find a Kia Telluride that fits your style.  
Telluride Interior
When you step inside the luxurious cabin of the 2023 Kia Telluride, you will notice the colossal all-digital instrument panel with double screens. The double screens display the infotainment system and gauges. It will also come standard with navigation and a Wi-Fi hotspot. There are many amenities to customize to fit your needs, such as adding a sunroof, captain's chairs, ventilated second-row seats, and more.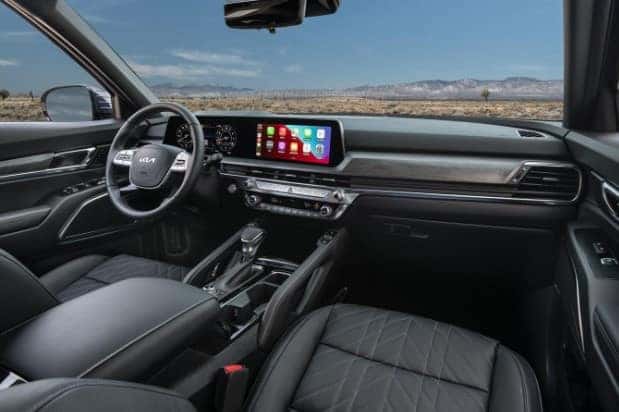 Fiesta Kia
We are delighted to constantly provide exceptional customer service and continually supply quality Kia vehicles. We understand life has been out of the ordinary, and inventory has been challenging to find; we are thrilled to provide a vast selection of Kia vehicles for you to explore.
Please look at our website to browse our inventory of new, used, and pre-owned Kia vehicles. In addition, we provide an assortment of resources and helpful information on our website to make your car buying experience convenient and pain-free. Select the finance center tab and complete the finance application to get a head start on purchasing your 2023 Kia Telluride. Our finance whizzes are ready to assist you wAith purchasing your Kia Telluride. We will help you find an auto loan with an interest rate that works with your budget. Our pros are eager to answer any questions you may have concerning models, purchasing, financing, and servicing your 2023 Kia Telluride.
Please come by Fiesta Kia and let our team of professionals assist you in locating, buying, and financing the Kia Telluride of your dreams. Ask to test drive the Kia Telluride to see which model you would prefer. 
Fiesta Kia is located at 7400 Lomas Blvd NE Albuquerque NM 87110. We look forward to the chance to demonstrate how different we are from other Kia dealerships. Come by and give us a chance!