For Innovation that Excites, Shop the Fiesta Kia Dealership in Albuquerque, NM
If you haven't yet noticed, Kia is a brand that innovates. Kia vehicles are created with expert craftsmanship, exceptional reliability, and stunning design. The company is making huge strides in the automotive world while still offering excellent values for its customers. If you've been wondering about Kia vehicles, it's time to satisfy your curiosity by visiting our Kia dealership in Albuquerque, NM. Let us at Fiesta Kia show you how capable our cars and SUVs really are.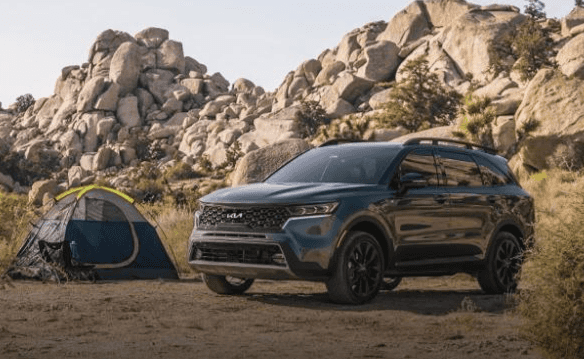 New Inventory
Here at Fiesta Kia, we have all the outstanding Kia models you've heard about, such as the Carnival MPV, the award-winning Telluride, the rugged Sorento, the totally redesigned Sportage, and the funky little Kia Soul. We also have excellent Kia sedans like the popular Forte and K5 and the sleek, sexy Stinger. If you're thinking about choosing something "greener" for your next vehicle, Kia makes the all-electric EV6 and Niro EV, and several hybrid models. 
You'll never feel pressured here at Fiesta Kia, and we'll provide a pleasurable shopping experience like no other. When a few photos and facts just won't do, come over to Fiesta Kia, check things out in person, and then go for a test drive. You've got to experience a Kia firsthand!
Used Inventory at our Kia Dealership in Albuquerque, NM
If you prefer purchasing previously owned autos, a vast inventory of used vehicles awaits you here at Fiesta Kia. We've collected an assortment of mainstream brands, but we've also got several pre-owned Kia models if you want the integrity that comes with the Kia name. With all the options open to you, you're sure to find something exciting that fits your lifestyle!
Yes, we have a great selection, but each one of our used vehicles has also been meticulously inspected for assured quality. With the used inventory at our Kia dealership in Albuquerque, NM, you'll get both.
Parts and Service at Fiesta Kia
Locating the correct parts for your Kia shouldn't be difficult. However, many inexperienced people are working at parts counters. Come to Fiesta Kia and let our experience work for you. We know what we're talking about when it comes to all things Kia, and we can even deliver the component you're seeking. And we don't have just any parts here at Fiesta Kia; we have genuine Kia brand parts and accessories. This means you get the exact pieces Kia put in your ride originally! 
Supplying you with the needed parts isn't all we can do; if interested, we can install them too. Our service technicians are experienced with installing every component under the sun, and they're the best team to get your Kia back to performing at its peak.
Of course, getting the proper service for your Kia is essential. Unfortunately, many auto shops are unfamiliar with Kia vehicles, and most places aren't prepared to offer everything your Kia may need. At Fiesta Kia, we're prepared! We're ready to do everything from simple oil changes to significant engine work, and we'll always treat your ride like our own. Our service comes with honesty, and we'll always be upfront and straightforward with you. When you bring your car to Fiesta Kia you can rely on us to do it right!
Visit Us
When you're ready to discover just how great Kia vehicles are, come to 7400 Lomas Blvd NE in beautiful Albuquerque, NM.