The Kia Service Center Near Santa Fe NM Has Your Back
The Kia Service Center near Santa Fe NM prevails as a one-stop shop meeting all your maintenance and initiative-taking service needs. Even though a historical reputation of reliability accompanies each Kia that exits the assembly line, driver confidence is boosted even further with the security offered by the Kia Service Center and its ability to provide vehicle maintenance that surpasses other vehicle centers stationed throughout the surrounding communities. Knowing that Fiesta's service center can accommodate your needs and solve your problems allows drivers to venture where they might not usually. Just imagine what could be missed by living in fear of automotive issues. Instead, the Kia Service Center kicks its customers out of the nest and insists they put their Kias to the test. 
Scheduling Ease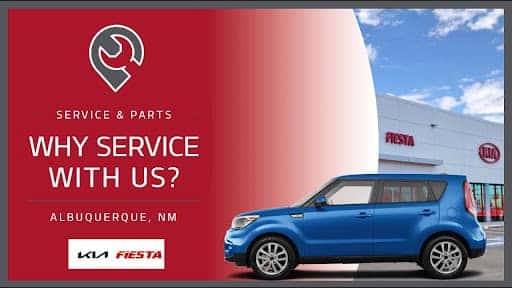 The Kia Service Center near Santa Fe NM recognizes its customers lead busy lives with more pressing matters than bringing their trusty automotive sidekick in for maintenance. Exercising great strides in accommodating those needing automotive work, the Kia Service Center offers scheduling made easy and from the click of a button on the Fiesta Kia website. A simple visit to the Schedule Service tab allows for an elementary process in scheduling oil changes, express service, available service, tire specialists, and even preventative maintenance packages. With so much time spent on smartphones and connected devices, Fiesta Kia recognized the potential in reaching its customers and further simplifying their lives regarding vehicle ownership. 
Kia Service Center Near Santa Fe NM: Recall
While perfection is impossible, Kia does an excellent job of almost achieving it regularly. Admitting that sometimes mistakes occur, Kia's Service Center stands ready to meet the needs of Kia drivers with a recall department that can manage all acknowledged by the automaker. Here, Kia owners can find confidence in relying on the same skilled technicians that keep their vehicles in top shape with oil changes and tire rotations. The same caring technicians can make that recall notices a simple factor of the past. 
Braking Barriers
Only the best products are utilized in servicing customer vehicles to ensure adequate stopping territory even under the harshest driving conditions. The Kia Service Center resides as the top expert in braking technology and care. Kia demands a hard stop when needed, and technicians trained in that sentiment can be found at the Kia Service Center readily waiting to ensure the safety of your driving experience. As an added tool in educating its customers, Fiesta Kia offers an informative video on the importance of brake system maintenance. Of course, it is always waiting to be played at the Schedule Service tab on the Fiesta Kia website. 
Specials for Special Customers
Fiesta Kia engages with each of its customers to develop a trusted relationship. The new car purchase is viewed as a lasting event, not just isolated to that one evening where names are signed and money exchanges hands. Fiesta wishes to make the journey from start to finish when it comes to the lifetime of the trusted Kia. As a result, little gifts are offered, including competitive rates found at the Service Center. Fully synthetic oil changes can last for over $100, while tire rotations remain under $50. Not only can Kia customers purchase windshield wipers at the Service Center, but a technician will install them for the customer. Even the purchase of a new battery brings convenience with the help of heavy lifting by a trained Kia technician. Additional competitive pricing is available for transmission fluid changes, multi-point inspections, wheel alignment, and tire rotation. To learn more about how the Kia Service Center can make service appointments enjoyable and extend the life of your automobile, contact Fiesta Kia at 7400 Lomas Blvd NE Albuquerque, NM 87110.